29/07/2010:- Implementation of DPE OM dated 02.04.2009 regarding 78.2% fitment benefit- Dir (HR) to GS AIBSNLEA .... the matter has been discussed in the BSNL Management Committee and will be sent to BSNL Board meeting on 30.07.2010 for consideration.

29/07/2010:- Gopal Das, Dir (HRD) to be the new CMD of BSNL

TT Correspondent | New Delhi | 29 Jul 2010

Gopal Das will replace Kuldeep Goyal as the chairman and managing director (CMD) of Bharat Sanchar Nigam Ltd (BSNL). Sources said that the communications ministry has approved his file. He may be the last Indian Telecom Service (ITS) officer to head the company. The government has set up a search committee for selection of future CMD. He is currently the director (HRD) in BSNL. He is known for his positive attitude, integrity and is a thorough professional.
29.07.2010 : DPC , SDE to (DE Adhoc) .... GM (Pers) to GS AIBSNLEA ....... The following circles are yet to send the VCRs i.e. AP-17, AS-5,BRBITT-1, BSNLCO-1, CGHR-2, CTD-2, DNW-1,ETR-2,GUJ-21, HR-1,J&K-6, JKND-7, KRL-26,MH-26, MP-2, NE-I-1, NTP-4,NTR-1, QA-1,RAJ-17,STP-1, T&D-3, TN-13, UKND-1,UP(E)-3, UP(W)-2, WTP-2,WTR-1.
29/07/2010:- BSNL CMD Kuldeep Goyal to join Central Administrative Tribunal (CAT) – Jaipur

TT Correspondent | New Delhi | 28 Jul 2010

Kuldeep Goyal will retire from BSNL on July 31 after completing three years as CMD of the company. He joined the company on August 1, 2007 . He tried to revamp the company through various means such as restructuring it in lines of private organizations, implementing ERP system, and focusing on new sources of income. All his efforts are likely top show output in next few years. Just prior to taking over as CMD, BSNL, Shri Goyal has worked as Director (Planning & New Services) and was responsible for planning and execution of strategy for expansion of BSNL's network. Now, he will join, Central Administrative Tribunal (CAT) – Jaipur bench as its member. The government has given all the necessary clearances including vigilance clearances.
28/07/2010:- SC dismisses BSNL's plea on claims over NLDO calls

(PTI)The Supreme Court on 27/07/10 dismissed a seven-year-old BSNL petition challenging the orders of TDSAT, which had dismissed the claims of BSNL on national long distance operation (NLDO). BSNL had challenged the orders of TRAI before TDSAT, which had permitted Bharti Airtel group firm Bharti Telesonic Limited to carry NLDO (STD calls) on its own network. In November 2001, BTSOL was given license for NLDO and private operators were routing NLDO call on its network. Prior to it all NLDO calls of private operators were routed through BSNL's network. A bench comprising Justice Markandey Katju and Justice T S Thakur dismissed the petition of BSNL after observing that the order of TRAI regarding NLDO has become infructous, hence nothing has remained in this matter.

BSNL had challenged an order of the TDSAT which had on March 2003 dismissed the appeal of the PSU. BSNL had challenged the direction of the TRAI before the tribunal, which had made an interim arrangement regarding distribution of default traffic on NLDO between the PSU and Bharti Telesonic Limited (BTSOL). TRAI had said that operators can by default pick any of the two NLDO licencee -- BSNL and BTSOL - for STD calls. This was challenged by BSNL before the TDSAT on the ground that BTSOL cannot transfer the NLDO call of its own network. Terming the transfer of calls by BTSOL as illegal, BSNL had claimed it had suffered a loss of Rs 25 crores and sought the money back. However, this was later resolved by TRAI, when it gave Share this permission to the cellular operators to route NLDO calls by their own choice
27/07/2010:- Strategic partner with 26 pc stake an ideal solution: BSNL CMD

27 Jul 2010, 1528 hrs IST,AGENCIES

"In the interest of the company, we should have a strategic partner where they have a 26 per cent stake," BSNL Chairman and Managing Director Kuldeep Goyal told PTI. However, Goyal said the employees should get a share in the stake sale so that they also feel that they own the company. The telecom veteren feels that the agitating unions can also be brought on board for this.

"I think if a decision is taken, then it could be explained to them... their fear is that it should not be privatised... that government should explain to them it will continue to have a 51 per cent stake in the company. "This categorical assurance, if it is given to them, I think they can be bought on board," Goyal said.

"To begin with, dilution of 10 per cent stake is a good amount, it should be gradually increased to 26 per cent by the government," he said. Asked whether the management has negotiated with any foreign player, Goyal said no such talks have been initiated. But there are some good foreign players like Deutsche Telekom, France Telecom and British Telecom who could be considered. Citing the example of Tata Docomo, he said once Docomo tied up with Tata Telecom, their performance improved significantly.
27/07/2010:- BSNL CO Called for ACRs and VCs of SDE(E) for promotion to EE(E), for the periods 2005-06 to 2009-10 in Annexure A, 121 nos and in Annexure B , 10 nos ....
26/07/2010:- Govt invites applications for posts of BSNL, MTNL chief

To fill up the CMD posts in BSNL and MTNL, government today invited applications from suitable candidates in the public and private sector and offered a maximum salary package of Rs 30 lakh per annum. In a notification DoT today said the eligibile candidate should possess adequate experience at a board-level position or one level below the board-level in public or private sector companies preferably of comparable size. Also, those candidates who have 'experience in turning around companies facing difficult circumstances' would be given weightage. This is the first time in Indian telecom history that the government is seeking suitable cadidates from the private sector to fill up the post of CMD of these two PSU telecom firms. As per the terms and conditions of the job, the CMD will be offered a payscale of Rs 80,000 to Rs 1,25,000, with the benefits applicable to the Chief Executives of these companies. The candidates are requested to apply to the Telecom Secretary by August 16, 2010.
26/07/2010:- Turning BSNL around: Systemic changes hold the key .......

Imagine a company of the size of BSNL not being able to place purchase orders for its expansion for almost three years in an exploding mobile market. Little wonder it was left far, far behind by the competitors. The BSNL customers also moved from fixed line telephones to mobiles, especially the middle class customers who acquired mobile connectivity for every member of the family and felt the additional expenditure on fixed line phone could be done away with.

BSNL tried to save the situation by an aggressive media campaign. They engaged actor Preity Zinta as the brand ambassador. In one of the ads, she rejects the prospective bridegroom saying she will not marry into a family that doesn't have a fixed line phone. Despite this powerful message, customers kept moving out of fixed-line connectivity. .......

Pl go thro
24/07/2010:- Restoration of seniority of TES Gr B, for three officers by Ernakulam bench of Kerala High Court, for two after retirement and one retiring by Oct 2010.
24/07/2010:- (A) DE adhoc phase-II promotion list :There is delay in receiving the ACR/VCR and below benchmark pending cases from many Circles to BSNL CO. GM (Pers) mentioned that the target of 31.07.2010 to complete the DPC and issuing promotion order to DE adhoc may be missed, since the ACR / VCR and below benchmark pending cases of the following Circles are not yet received :

(a) ACRs (SC Executives) : AP, BR, CHGR, HR, KRL, KTK, MP and UTRL
(b) VCR (OC, SC and ST Executives) : AP-111, AS-15, BR-12, BRBRAITT-1, BSNL CO-28, CHGR-10, CHTD-35, CTD-18, DNW-1, ETP-6, ETR-8, GUJ-51, HP-11, HR-8, J&K-10, KRL-27, JKND-7, KTK-50, MH-105, MP-48, NCES-1, NE-I-9, NTP-5, NTR-30, OR-29, PB-18, QA-7, RJ-60, STP-8, STR-19, T&D-5, TN-144, UP(E)-4, UP(W)-7, WB-7, WTP-2, WTR-14
(c) Below benchmark (OC & ST Executives) : UP (E)-2, AP-3, ETR-1, KRL-1, KTK-3, MP-1, NTP-1, RJ-1
In this present scenario , by 2nd week of Aug 2010 the list may be released.

23/07/2010:- BSNL, MTNL may delay Number portability: Trai

Shalini Singh, TNN, Jul 23, 2010, 12.25am IST

There are growing signs that the implementation of mobile number portability may miss its freshly set October 31 deadline, this time because government-run firms BSNL and MTNL are unprepared. Telecom regulator Trai has written to DoT saying, "the Authority is apprehensive that unless DoT, which is the administrative department for these PSUs, takes a firm commitment from them, their lack of action will continue to result in further delay in the implementation of MNP."

All the service providers are at various stages of testing except BSNL and MTNL. "While BSNL is yet to start testing as its MNP gateway is not ready, MTNL is still in the process of placing the purchase order".

MNP was to have been implemented in 2009, but has met with severe resistance from operators. More recently, the deadline for its implementation was shifted first to March 31, 2010 and then extended to June 30 and later to October 31. It also ran into trouble with the home ministry and the FIPB over security clearances, but has been jinxed over one or another count since it was first announced. "DoT is requested to take necessary action for MNP implementation so that it is implemented before October 31, 2010 and that there is no further extension of MNP implementation date," Trai writes.
22/07/2010:- The special GB of AIBSNLEA, Erode SSA branch was conducted on 21/07/2010 during the lunch hour at GM T office, Rest room, Ground floor. In the jam packed hall , district president Sri G.Nagarathanam presided. Sri C.Periaswamy Dist Secretary, Sri K Sengodan CWC Member, Sri K.K. Dhandapani Dist Vice President, Sri A. Shajahan Dist Org Secretary, Sri M.Baskaran Dist Asst Secretary took part.
Members were requested to visit Erode AIBSNLEA Branch web site regularly.
Forthcoming CEC at Chennai was also discussed .
A Brief on APAR and how to write APAR by reporting and reviewing officers was presented in the meeting by the Dist President. The recent incident of court case wherein transmission of signals thro Optical Fibre cables was termed as liable for service tax, retaining HRMS nos for TTAs recruited as direct JTOs were discussed.The District Secretary narrated the achievements and the historical developments of AIBSNLEA. The meeting ended with vote of thanks by District Treasurer.
20/07/2010:- Sales Tax: HC gives interim relief to BSNL

The Karnataka High Court on 20/07/10 directed the commissioner of commercial taxes not to precipitate the matter on the collection of Rs 6,600 crore as sales tax from Bharat Sanchar Nigam Limited for selling voice and data to customers. The petitioner had challenged the notice issued by the commercial taxes department on June 18, asking BSNL to pay the sales tax from 2001 to 2009, amounting to Rs 6,600 crore. Through its optical fiber cable (OFC) network, BSNL is transmitting voice and data to customers. This amounts to transportation of goods. So, it attracts sales tax, the department said in the notice.

However, Soli Sorabjee, former Attorney General of India, argued that the transmission of electromagnetic signals did not amount to sale of any goods. This is a service and customers get this service by receiving voice calls and data, Sorabjee argued. For providing the services, BSNL is paying service tax. So levying sales tax is unconstitutional, said P S Dineshkumar, the petitioner's advocate.
20/07/2010:- There is some news that BSNL mayn't have fund to pay salary after Nov2010. Every SSA may be drawing more funds than the collection they have made from all sources in each month .Hence,there may be around excess requirement of Rs 5000 crores for this F.Y 2010-11.in entire BSNL.This may create problem for even salary payment also.
19/07/2010:- Exercising option under Para 1 (I) (d) (7) of Time Bound/Post based Executive promotion Policy for Group 'B' level officers of BSNL – reg.

This office has been receiving representations of the Accounts and Finance officers of BSNL through their respective Circles to grant up-gradation to the grade of AAO and to treat it as First Time Bound promotion as per provisions of Executive Promotion policy of BSNL.

In this connection, it is intimated that since the Time Bound/Post based Executive promotion policy for Group 'B' level officers of BSNL circulated vide OM No. 400-61/2004-Pers.I/308 dated 18.01.2007 and subsequent clarification issued by personnel branch vide their letter no. 400-175/2007-Pers.I dated 19.02.2010 are amply clear and self explanatory, you are requested to take necessary action on the representations at your end since time bound up- gradation comes under the purview of the respective Circles ... BSNL CO FP section to Circles ..........

----------------------------------------------------------------------------------------------
19/07/2010:- BSNL unions ask for `18,500-cr 3G refund, threaten to strike

19 Jul 2010, 0225 hrs IST,PTI

NEW DELHI: Asserting that it was forced to pay a whopping Rs 18,500 crore for 3G and broadband spectrum, the employees associations of BSNL on Sunday asked the government to refund the money and threatened to go on strike if the demand was not met. The Joint Action Committee (JAC), represented by three lakh executives and non-executives of BSNL, has called a convention on 19/07/2010, demanding the refund of the spectrum money as well as exempting the PSU from paying licence fees on fixed lines, among other concessions. According to them, BSNL was not given the option to bid and choose circles of its choice like other private players. Rather, it was given spectrum for all the circles barring Delhi and Mumbai (where another PSU, MTNL, got the radio waves) and asked to match the winning bid. The union is likely to call for a three-day sit-out strike from September 21 to register their protest in case the government fails to resolve the issues. They will go on an indefinite strike in case the government fails to meet their demands in totality within a reasonable timeframe.

----------------------------------------------------------------------------------------------
17/07/2010:- BSNL, MTNL chiefs' pay to be Rs 45 lakh

The new chairmen-cum-managing directors of public sector telecom firms BSNL and MTNL will be hired on a contract basis with a fixed term of three years, as per the terms and conditions of their appointment, and they will be eligible for the same salary and perks as the head honchos of schedule-A PSUs. According to sources in the know, it has been agreed that their appointment should be made for a fixed tenure of three years, extendable by another three years, based on performance evaluation by an external group. The deviation in the selection process has been done in the case of the two telecom PSUs as part of restructuring to make them financially viable, as recommended by the Sam Pitroda panel. Sources said the six-member committee has been given the mandate to look for a suitable candidate either from within the organisation or from the private sector. As per the terms and conditions, the CMD would be offered a salary and perks as per Schedule-A PSUs, along with performance-related pay and other facilities like free accommodation and a car. This roughly works out to a package of about Rs 45 lakh (Rs 4.5 million) per annum with an entry-level basic pay of Rs 80,000. The scale ranges up to Rs 125,000.

Sources in-the-know said these were discussed between the Prime Minister's Office and the Department of Telecom before constituting the panel. The panel was formed on the request of the DoT.
16/07/2010:- India adds 12.29 mn new GSM subscribers in June 2010 :-

India added 12.29 million new GSM subscribers in June that takes the total GSM subscriber in the country to 456.58 million. Country's top telecom player Bharti Airtel added three million new users while Vodafone Essar added 2.71 million, Idea Cellular 2.15 million where as Aircel added 1.6 million customers in June. As per the data released by the GSM lobby group COAI, Bharti Airtel with total subscriber base of 136.6 million is the market leader with 29.92% market share, followed by Vodafone Essar with 109 million users enjoys 23.89% market share. BSNL and MTNL added 1.09 million and 44,413 new users respectively in the same period, taking their subscriber base to 66.88 million (BSNL) and 4.90 million (MTNL)

16/07/2010:- Licence fee: DoT rejects BSNL plea for level field

The Department of Telecom has rejected BSNL's request seeking a level playing field with the private operators on the issue of paying of licence fees and spectrum charges. Although the DoT had raised spectrum charges for everyone, private players continue to pay the earlier lower charges after they got a favourable judgment from the Telecom Dispute Settlement Appellate Tribunal (TDSAT). Since BSNL was not part of the petition filed with the tribunal, the PSU pays the revised higher charges fixed by DoT. BSNL had written to the Government saying that it should be allowed to pay lower charges as was being paid by private players. If DoT had agreed to BSNL's request then the PSU would have saved around Rs 2,000 crore annually. Telecom operators are required to pay between 6 and 10 per cent of their annual revenues to the Government as licence fees.

· BSNL pays 3 to 7 % of its revenues as spectrum charge compared to 2 to 5% by private operators

· BSNL pays license fees on total revenues while private players pay only on income from telecom services

· Private players pay lower charges as they challenged DoT order and got relief from TDSAT

· BSNL being a PSU did not want to challenge DoT order but expected TDSAT relief to be extended to it

-----------------------------------------------------------------------------------------

16/07/2010: The second modification order on DE Adhoc postings by Pers section issued on 16/07/10 .........

-----------------------------------------------------------------------------------------
15/07/2010:- After issuing SDE to DE Adhoc promotion orders on 02/07/2010 , BSNL Corporate office started issuing modification orders for Circle postings.
To Begin with for 5 lady officers, Circle posting modification issued on 14/7/2010.
Postings in TN Circle .......... Out of 173 DE Adhoc postings,
In Madurai SSA , 10 DEs Adhoc shifted out of Madurai SSA and issued officiating for 3 SDEs.
In Tirunelveli SSA , 2 Adhoc DEs are shifted out and officiating given for two SDEs.
In Tiruchi 10 Adhoc DEs are shifted out, 2 SDEs are given officiating
In Nagercoil one Adhoc DE was shunted out to Coonoor SSA.
In Circle office 18 Adhoc DEs were accommodated. and 4 in RGM
In CBE SSA 17 DE Adhocs posted and 7 SDEs given for DE officiating.....
There are some famous SSAs where no disturbance ...........
----------------------------------------------------------------------------------------------
15/07/2010:- PMO forms panel to pick BSNL chief

With telecom minister A Raja dragging his feet on selecting a new chairman and managing director for BSNL in accordance with the suggestions of the Sam Pitroda committee, the Prime Minister's Office has stepped in. In a move which virtually leaves Raja out of the selection process, the PMO has formed a search committee headed by cabinet secretary KM Chandrasekhar. Other members of the committee are Shantanu Consul, secretary, department of personnel and training, PJ Thomas, secretary, DoT, DPS Seth, former member, Trai, A Paulraj, WiMAX expert and professor emeritus, Stanford University, and Deepak Prakeh, chairman, HDFC. Deepak Parekh and PJ Thomas were also the members of the Pitroda committee. The mandate of the search committee is to look for an eminent industry person to be chairman of BSNL and a separate managing director & CEO. The current chairman and managing director of the company, Kuldeep Goyal retires this month end. One of the key recommendations of the Sam Pitroda committee, which was set up by the PM in January was to split the post of the CMD into two.
14/07/2010:-
Revenue Top Ten Companies
Sl
Company
2008-09
2009-10
Revenue
No
in Cr
in Cr
Growth %
Rank
1
Bharti Airtel
36,962
38,800
5
1
2
BSNL
35,167
30,240
- 14
2
3
Vodafone
20,400
23,200
13.7
4
4
Reliance Communications
22,941
22,130
- 3.5
3
5
Idea Cellular
10,125
11,390
12.5
5
6
Tata Communications
9,963
11,000
10.4
6
7
Tata Teleservices
6,739
6,900
2.4
7
8
Aircel
3,425
4,700
37.2
9
9
MTNL
4,487
3,650
-18.7
8
10
TTML
1,929
2,300
19.2
10
13/07/10:- SC orders private telcos to pay BSNL Rs 39000 for ports

Published on Tue, Jul 13, 2010 at 21:39 | Updated at Tue, Jul 13, 2010 at 21:42 | Source : CNBC-TV18

The Supreme Court has passed an interim order in the battle between BSNL and private telecom companies, reports CNBC-TV18 Siddarth Zarabi . SC has directed private telecom companies to pay BSNL Rs 39,000 per port as interconnect fees for the period between February 2007 and May 2010. This is lower than the Rs 55,000 BSNL was demanding. As per the Supreme Court, the arrangement will continue till 2 August. The case will come up for hearing on 2 August. It has also ordered BSNL to file details of recoverable dues.
11/07/10:- BSNL seeks Rs 15,873-cr aid for loss-making rural operations

11 Jul 2010, 0059 hrs IST,PTI

NEW DELHI: State-run BSNL has written to the Telecom Ministry requesting a compensation of Rs 15,873 crore per annum from the USO Fund for its loss-making rural operations. Stating that the company incurs a loss of about Rs 15,873 crore per annum for operating basic services as well as telegraph facilities in rural areas, BSNL CMD Kuldeep Goyal said in a letter to Telecom Secretary P J Thomas that this is making operations unsustainable and financially unviable. "It is therefore once again requested that BSNL may kindly be compensated for these losses of Rs 15,873 crore per annum by providing support from USO Fund to the maximum possible extent and rest by exempting BSNL from making payment towards licence fee, spectrum charges and USO Fund," he said. The PSU is making this demand on the argument that it is providing services to the public at minimal tariff. BSNL incurs a total annual loss of about Rs 10,985 crore only through basic phone services in rural areas. The Department of Telecom has made a provision of Rs 2,000 crore per annum from the USOF for three years as financial support for its loss-making wireline services in rural areas, which the BSNL feels is quite 'inadequate'. As per the audited accounts of BSNL for 2008-09, the rental revenue from rural basic lines is about Rs 1,048 crore from 1.5 crore lines, which translates into a revenue of Rs 58 per line per month. Similarly, all the other recoveries, including call charges revenue and PCO income, come to about Rs 1,696 crore, which is a revenue of about Rs 94 per line per month. On the other hand, during the same period, the OPEX of BSNL on rural lines was Rs 12,681 crore, which reflects an expenditure of Rs 702 per line per month. This excludes a depreciation of Rs 4,658 crore after taking into account 50 per cent extra expenditure on rural areas, Goyal said in his letter. This indicates a huge gap between the cost of a rural line and the revenue coming from them, BSNL argued. BSNL may register a loss of Rs 3,641 crore in 2009-10, the standing committee on telecom had said in a report tabled in the Parliament during the last budget session. The Rs 3,009-crore profit registered by BSNL in 2007-08 had decreased to Rs 575 crore in 2008-09.
09/07/2010:- Telecom commission formed internal committee

The Telecom Commission on 07/07/10 decided to constitute an internal committee under the chairmanship of Member (Services), Department of Telecom (DoT), to give its recommendations on implementation of the Sam Pitroda Committee Report for improving performance of BSNL.

The committee will take inputs from BSNL including its employees association and submit its report to the Telecom Commission within a month. The decision was taken at Telecom Commission meeting held under the chairmanship of Telecom Commission Chairman and Telecom Secretary P. J. Thomas. The Commission has also decided to constitute an inter-ministerial committee to examine the issue of imposition of financial penalty for violation of terms and conditions of telecom license agreements. Meanwhile, the Telecom Ministry has set up an internal panel to look into the concerns of telecom operators over TRAI's spectrum proposals, including levying a one-time fee on 2G radio waves.

"The government has decided to refer the concerns of telecom operators on recent recommendations of TRAI to an Internal Committee of DoT headed by Member (Technology)," an official statement said.

This decision was taken at a meeting between Communications and Information Technology Minister A. Raja and mobile operators and their respective associations
07/07/2010: SDE to DE Adhoc Posting orders issued by TN Circle

----------------------------------------------------------------------------------------------

06/07/10:- Pitroda Committee recommendation to be considered: DoT

Telecom Yatra | New Delhi, July 06, 2010

Recommendations of the Pitroda Committee, which was constituted by the Prime Minister and headed by Sam Pitroda in January this year to look into the BSNL's financials and operations, and to suggest ways to revive its profitability, will be considered in a Telecom Commission meeting to be held on July 7. The Pitroda Committee, which had submitted its recommendation in February, had suggested that the post of the chairman and managing director of BSNL be split into two, with eminent industry personalities as its chairman and chief executive officer to run day-to-day operations. Apart from this, DoT also clarified that so far no interviews have been held for the post of chief managing director, BSNL, as reported in a section of the media.
06/07/2010:- BSNL to outsource 3G mobile services - report

State-run telecoms Bharat Sanchar Nigam Ltd plans to outsource its third-generation mobile services and is working on details for a franchisee agreement, the Business Standard reported on 05/07/10. The company will invite expressions of interest by the end of this month, the newspaper quoted BSNL Chairman Kuldeep Goyal as saying. The paper said outsourcing would help BSNL reduce investments it needs to roll out the 3G services. Goyal told the paper the franchisee could be an existing mobile service provider or a company that had not won or bid for 3G spectrum. The franchisee will manage customer acquisition, marketing and sales of BSNL's 3G services across the country, he said.

.
01/07/2010 Retirements as on 30/06/2010
Telecom Engineering
SDE/PS 108 nos TN 06 nos
STS Regulr/Adhoc 68 nos TN 08 nos
Retirements in Telecom Finance
JAG Adhoc 7 nos
CAO Adhoc 10 nos
Sr AO 4 nos
26/06/2010:- Pilgrims on Amarnath yatra can stay connected, thanks to BSNL

Lakhs of devotees who visit Jammu and Kashmir between July and August to undertake a trek to the Amarnath cave shrine have a pleasant surprise this year.

Thanks to monumental efforts by State-owned Bharat Sanchar Nigam Ltd., the devotees can now remain connected during the long trek between the base camp and the cave.

Braving tough snowy terrain, BSNL engineers and workers have installed nine mobile towers between the base camp at Chandanwari as well as on the alternative route from Baltal to ensure that lakhs of devotees who visit the shrine between July 1 and August 24 remained in touch with their loved ones.

Union Minister of State for Communications and Information Technology Sachin Pilot, who has been the main force behind the completion of the arduous task, will open the service during his visit to the shrine after the much-awaited yatra opens on July 1.

"After the base camp, there was no connectivity while trekking towards the shrine. Pilgrims, including women, virtually remained cut off from their family members for days till they return to the base camp. But now this will change and the new facility would benefit the old and the infirm and other people wanting to stay in touch with their families. Connectivity will also benefit local inhabitants, administration and security forces, enabling them to stay in touch with each other and facilitate people visiting the area," Mr. Pilot told The Hindu.

A challenge

While all private operators have so far shunned the idea of installing these towers on the yatra route, the BSNL took it as a challenge and as part of its social obligation and commitment to provide seamless connectivity to mobile users undertaking the Amarnath yatra, Mr. Pilot said.

The BSNL spent around Rs.8 crore on the venture, which could be used by civil and defence administration once the yatra is over.

Situated at 14,500 feet, the Amarnath shrine is visited by more than 4-lakh pilgrims every year, trekking either 30 km from Chandanwari camp or 15 km from Baltal.

To ensure uninterrupted connectivity, mobile towers have been installed at Baltal-I, Baltal-II, Domail, Barari, Sangam/holy cave, Panchtarni, Mahagunastop, Sheshnag and Chandanwari.
25/06/2010:- NET ACHIEVEMENTS IN MAY 2010 -- BSNL
| | | | | | | | | | | | | | | | | | | |
| --- | --- | --- | --- | --- | --- | --- | --- | --- | --- | --- | --- | --- | --- | --- | --- | --- | --- | --- |
| Sl no | Circle | Basic | WLL | Mobile | Total | 3G | EVDO | WiMax | | Sl no | Circle | Basic | WLL | Mobile | Total | 3G | EVDO | WiMax |
| 1 | A & N | -1 | 138 | 4570 | 4707 | 392 | 0 | 0 | | 14 | Maharashtra | -25105 | 104347 | 37811 | 117053 | 0 | -18 | 8 |
| 2 | Andhra Prad | -9711 | -566 | 64090 | 53813 | 6,747 | 111 | 1 | | 15 | NE-I | -990 | 37 | 9083 | 8130 | 420 | 144 | 0 |
| 3 | Assam | -1652 | 2390 | 10726 | 11464 | 178 | 177 | 0 | | 16 | NE-II | -39 | 682 | 16238 | 16881 | 501 | 99 | 7 |
| 4 | Bihar | -938 | 160 | 11381 | 10603 | -12,796 | 17 | 10 | | 17 | Orissa | -3189 | -941 | 80751 | 76621 | 2,394 | 75 | 0 |
| 5 | Chhattisgarh | -2455 | -2404 | 8857 | 3998 | 0 | -241 | 20 | | 18 | Punjab | -10229 | -12464 | 45689 | 22996 | 683 | -29 | 265 |
| 6 | Gujarat | -5766 | -645 | 8879 | 2468 | 0 | 315 | 3 | | 19 | Rajasthan | -12104 | -1678 | 80876 | 67094 | 3,914 | 220 | 12 |
| 7 | Haryana | -9188 | -1461 | 26139 | 15490 | 444 | 40 | 19 | | 20 | Tamilnadu | -8458 | -1384 | 84144 | 74302 | 7,545 | 52 | 1 |
| 8 | Himachal Pr | -2222 | 4227 | 9032 | 11037 | 500 | 212 | 2 | | 21 | Uttarakhand | -1778 | -418 | 23247 | 21051 | 396 | 138 | 0 |
| 9 | J & K | -2248 | -1697 | 37472 | 33527 | -9 | 232 | 0 | | 22 | UP (E) | -2484 | 130 | 191434 | 189080 | 615 | 8 | 20 |
| 10 | Jharkhand | -4517 | 95 | 15229 | 10807 | 1,148 | 2 | 55 | | 23 | UP(W) | -335611 | -74884 | 40987 | -369508 | 1,631 | 254 | 7 |
| 11 | Karnataka | -10184 | -1256 | 82127 | 70687 | 6,561 | 279 | 4 | | 24 | W. Bengal | -10354 | 762 | 31008 | 21416 | 502 | 115 | 5 |
| 12 | Kerala | -10270 | -1532 | 42826 | 31024 | 4,593 | -8 | 36 | | 25 | Kolkata | -4869 | 653 | 40626 | 36410 | 1,112 | 403 | 0 |
| 13 | Madhya Pr. | -8902 | 681 | 26253 | 18032 | 0 | 100 | 17 | | 26 | Chennai | 749 | 306 | 16782 | 17837 | 3,686 | 325 | 0 |
| | | | | | | | | | | | BSNL | -482515 | 13278 | 1046257 | 577020 | 31157 | 3022 | 492 |
25/06/20: BSNL lashes out TRAI as favouring private calls -
In a strongly-worded communication to Trai, BSNL said the regulator used 'non-existent and incorrect information for giving completely impermissible, predetermined and biased recommendations against the PSU'. It further said this was done to 'favour private operators and cause financial losses to it as well as put it in a competitive disadvantage'.

The telco was referring to Trai's latest recommendations, where it had said BSNL held 12.4 MHz of airwaves in most service areas and was under-utilising the same. Trai had called for the withdrawal of 2.4 MHz of airwaves from BSNL in all service areas.

25/06/10:- BSNL paid Rs 8313.85cr BWA dues

After a twoday delay, state run telecom service provider, Bharat Sanchar Nigam Limited has paid up the dues to the tune of Rs 8,313.85 crore towards broadband wireless access (BWA) spectrum. In addition to this the telecom operator had to pay an additional Rs 30 crore as penalty.

24.06.2010 : DPC from SDE (T) to DE (Adhoc) held up :- VCRs from only 20 Circles have been received in BSNL Corporate Office so far. VCRs from the following 23 Circles are still awaited- A&N, AP, AS, ETP, BR, CHTD, GJ, HR, HP, J&K, JKD, KRL, MH, MP, NTR, NCES, OR, PB, RJ, TN, UP(E), UP(W) & WB. ..... AIBSNLEA CHQ ........

24/06/10:- BSNL seeks up to 5 days' time for making BWA spectrum payment

State-run BSNL has sought an up to 5-day extension from the Department of Telecom for paying up Rs 8,313.8 crore for broadband wireless spectrum due to unavailability of funds.

All the other operators who got BWA spectrum, including MTNL, have already paid for this. "We have asked for a 'few more days' to pay the broadband spectrum fee, as we are in the process of arranging funds. Although we have the required funds, these funds are not liquid at the moment and are all tied up," BSNL CMD Kuldeep Goyal told PTI. Asked what he meant by a "few more days", Goyal said it could be one to five days. 22/06/10 was the last date for making BWA payments. The auction, which ended on June 11, was to bring in over Rs 38,500 crore for the government. BSNL has to match the winning pan-India bid, except for the Delhi and Mumbai circles, which are reserved for MTNL, of the broadband auction that concluded recently.
23/06/2010: 11 nos of DGM Adhoc promotee officers in Southern Circles given re allotments at the initiaves of AIBSNLEA
23/06/10:-BSNL to float tenders for telecom equipment in June

State-run telecom major Bharat Sanchar Nigam Ltd will float separate tenders in June 2010, to buy telecom equipment worth billions of rupees to upgrade and expand its telecom network. BSNL plans to buy 5,000 digital satellite phone terminals The tender would be worth Rs 610 million, said BSNL and plans to float it by Jun 30. Another tender proposed is the purchase of telecom equipment to run 6 million telephone and broadband lines to be divided equally between the two services. The value of the proposed tender is Rs 600 crore. BSNL intends to float yet another tender to buy 5 million phones with caller line identification facilities, the tender value would be Rs 2.5 billion.
18/06/10:- Arun Sarin may be asked to head BSNL

The Government is looking at the possibility of roping in former CEO of Vodafone Plc, Mr Arun Sarin, to head Bharat Sanchar Nigam Ltd in a bid to turn around the public sector company.

The move is in line with the recommendations of the Sam Pitroda committee, which had suggested appointing talented professionals to run the telecom company.
18/06/2010:- Disconnected decision makers likely to keep BSNL headless ( without CMD)

Mansi Taneja / New Delhi June 18, 2010, 0:52 IST

Amidst increasing competition and declining market share, state-run telecom major Bharat Sanchar Nigam Ltd (BSNL) may find itself without a fulltime chairman and managing director for quite some time, after the retirement of incumbent Kuldeep Goel next month.

The selection process for his successor has been sluggish. The Prime Minister's Office (PMO) has asked the department of telecommunications (DoT) to set up a committee, headed by the Cabinet Secretary, for selecting the next BSNL chief. DoT has said this would take time, so the government should select BSNL's chief as in the current procedure, a senior ministry official told Business Standard.

Currently, candidates for central public sector companies are selected by the Public Enterprises Selection Board (PSEB). The date for interviewing candidates has already been postponed thrice. The last date for applications was December last year. The interview process was earlier scheduled for April, then postponed to May, then June 8, which also did not happen.

Nor has the post of CMD of the sister telecom PSU, Mahanagar Telephone Nigam Ltd (MTNL), been filled since January. MTNL's Director (Technical), Kuldip Singh, was given additional charge of the CMD's job. DoT is yet to decide if it should follow the new procedure or not.

Differences on Pitroda
To take BSNL's selection process out of PESB and set up a screening committee, the DoT would have to work out new guidelines for selection, eligibility criteria and incorporate a market-driven salary structure, among other things. The Sam Pitroda review committee's recent report (Pitroda is the PM's advisor on the sector) had said the government should employ people from the private sector and pay them a market-linked salary.

The department says this process would require time for implementation, which can impact the functioning of the PSU, as the CMD post might be vacant till the new policy is put in place, the official said.

However, due to these differences, the whole process has been delayed and the government might have to give additional charge of the BSNL CMD to a Director, the official added.

According to BSNL officials, this might create more problems, with the company already facing a tough time with the arrival of new telecom competitors. BSNL once had a market share of 20 per cent and this is now 12 per cent. It was also giving tough competition to market leader Bharti Airtel till two-three years before, but now has slipped to fifth position.

The procedural delays related to purchase of equipment and dependence on the government for decision making approvals are hampering the company's growth. BSNL's 93-million-line GSM tender was cancelled due to various controversies and differences . The company is facing a huge capacity crunch in many places. The Pitroda committee had also suggested BSNL go for outsourcing of network management, a system followed by other competing private telecom companies such as Bharti Airtel. DoT is yet to act on the Pitroda recommendations.
17/06/2010:- Government to decide on state telcos call for 3G fee refund soon

Nivedita Mookerji / DNA

Thursday, June 17, 2010 2:31 IST

Mumbai: The Union cabinet is expected to take a decision soon on whether to refund the money paid by state-owned telcos, Bharat Sanchar Nigam Ltd (BSNL) and Mahanagar Telephone Nigam Ltd (MTNL), towards spectrum for 3G (third generation) and telecom services.

When asked on the issue, minister of state for communications and information technology Sachin Pilot said, "it would be a collective decision of the government" as several ministries including the finance ministry would have a say on the refund matter.

Both BSNL and MTNL have sought a refund of the 3G spectrum money that they paid to the government recently. They may make a similar demand to the government for the money they have to pay for wireless broadband spectrum by June 22.

If the government agrees to fully refund the state telcos on 3G and wireless broadband, it would have to shell out over Rs 28,000 crore, out of a collection of Rs 1,06,000 crore.

BSNL and MTNL got 3G and BWA (broadband wireless access) spectrum more than a year ago, while private operators would get it only in September. Even as private players made an informed decision on bidding for spectrum during the recent auction, BSNL and MTNL have had to match the highest bids without participating in the auction process.

The state telcos are now arguing that they have been allotted spectrum across service areas for 3G and BWA without being given any choice. No private telecom operator had opted for pan-India spectrum in 3G and only the Nahata group-backed Infotel (95% of which was bought by the Reliance Industries) bid for pan India BWA spectrum.

Even as Pilot refused to get drawn into the controversial issue of whether the state-owned telcos should get a refund for the 3G and BWA money or not, the minister pointed out that "BSNL does a lot of work in the rural remote corners of the country that no other private telecom operator does."

The social obligation that BSNL fulfils, no other telco does, he argued. The minister referred to BSNL giving connectivity to Amarnath pilgrims as the latest initiative by the state telco.

Commenting on the recent 3G and broadband auction, Pilot told DNA that "it's good news in all aspects." The auction has been very positive in attracting huge revenue for the government. Also, it would help improve telecom access to the masses across the country.

Asked about the recent recommendation of the Telecom Regulatory Authority of India (Trai) on 2G (second generation) spectrum charges, Pilot said, "the Department of Telecommunications (DoT) has to take a considered view on it."
16/06/2010:- As per the JAC CHQ call, Dharna program was conducted near Telephone Bhavan, Erode on 16/06/2010.

JAC officer bearers of Erode SSA Sri Kankesh, Dist Secretary ,SNEA Sri C Periaswamy Dist Secretary AIBSNLEA, Sri Govindharajan , Dist President, BSNLEU, Sri Kasirajan, Dist Secretary TEPU, Sri Rajendran, Dist Secretary , SEWA took part.

Sri Govindharajan Dist President, BSNLEU and Sri Eswaran CWC member SNEA presided the dharna progam. Sri G.Nagarathanam Dist President AIBSNLEA, Sri Kankesh, Dist Secretary SNEA , Sri Kasirajan, Dist Secretary TEPU, Sri Rajendran, Dist Secretary SEWA , SriN. Palaniswamy, Circle Vice President BSNLEU spoke. JACs demands were highlighted by the speakers in the meeting.

Vote of thanks was delivered by Sri C. Periaswamy, Dist Secretary, AIBSNLEA.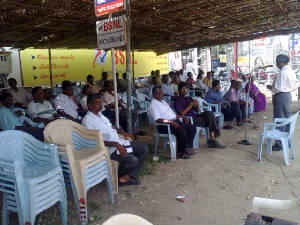 16/06/2010:- BSNL forced to pay more spectrum charges

Bharat Sanchar Nigam Ltd., which is already reeling under severe financial crisis, is being forced to pay hiked spectrum charges, while private mobile companies have been given temporary exemption.

BSNL, which is likely to report loss for the first time in its history for the last fiscal (2009-10), will have to bear financial implications worth over Rs.700-800 crore every year. All pleas by BSNL Chairman and Managing Director Kuldeep Goyal to Telecom Secretary P.J. Thomas, seeking exemption from paying hiked spectrum usage charges till the matter is finally settled has so far gone unheard.

In February, the Department of Telecom (DoT) decided to hike the spectrum usage charges for all mobile players (GSM and CDMA) as per the spectrum being held by them. The hike was in the range of 1-2 per cent and supposed to come into force from April 1.

However, private players immediately moved the Telecom Disputes Settlement & Appellate Tribunal (TDSAT). It stayed the order and asked the DoT to continue taking the existing charges till the mater is resolved. All the companies that approached the TDSAT got the relief; but being a government-owned firm, BSNL did not approach the TDSAT. Since then, BSNL has been paying more spectrum usage charges.

In his letter to the Telecom Secretary last month, Mr. Goyal said: "Being a 100 per cent government-owned PSU, BSNL would not like to challenge the DoT order. Therefore, it is requested to kindly extend the benefit of TDSAT order to BSNL also, in order to protect its interests and ensure a level-playing field."

"In case, it is not possible to extend the benefits to BSNL straightaway, at least an assurance may kindly be given to BSNL that benefits, if any, of final judgment of the TDSAT shall be extended to BSNL also from the date applicable to other operators," he added.

Now, after seeing no support coming from the government and in view of the PSU's bad financial condition, its Executives have decided to take the fight to the court themselves to safeguard BSNL's interests.
11/06/2010: JAO on Probation orders issued after completion of 4 weeks Phase I trainng from 17/05/2010 for 40% qualified JAOs. Annexure I Annexure II, In Erode SSA three officers, are posted as JAO on Probation Smt A.P Sundarambal, Smt K.Prema, and Sri R.Upendiran ....
07/06/2010:- BSNL launches 'BSNL 3G Rajdhani Express'

India Infoline News Service / 15:59 , Jun 07, 2010

Routes being covered by this Rajdhani train are Delhi-Chennai, Delhi-Bangalore & Delhi-Trivandrum.

BSNL (Bharat Sanchar Nigam Limited) is rolling out 3G network and related services across India. To publicize and create awareness at mass level and to strengthen it's brand presence 'BSNL 3G branded Rajdhani Trains' are being launched in association with Indian Railways and Peacock Media.
07/06/10: Telecom operators will soon be able to offer third-generation (3G) services on a pan-India basis through mobile virtual networks even if they do not have high-speed spectrum in all circles.

The guidelines, which the Department of Telecom (DoT) plans to issue for Mobile Virtual Network Operators (MVNOs), will enable firms to buy airtime on wholesale rates from existing operators and sell it under their own brands in circles where they do not have 3G spectrum.

Bharti Airtel, for instance, offers voice services in Calcutta but did not win spectrum for that circle. Under the MVNO route, it can buy high-speed spectrum from any private player, or BSNL, to offer data services in the city.

An MVNO offers voice and data services without actually owning any spectrum or infrastructure such as towers or transmission equipment.
06/06/2010:-
BSNL Mobile Market share as on 30/04/2010
Circle
Mkt share %
Andhra Pradesh
13.56
Assam
12.08
Bihar
14.28
Gujarat
11.84
Haryana
27.06
H.P.
26.59
J&K
18.36
Karnataka
13.97
Kerala
20.08
M.P.
14.16
Maharashtra
15.86
North East - 1
18.39
Orissa
18.62
Punjab
24.12
Rajasthan
17.01

Tamilnadu

12.90

U.P.(East)
23.68
U.P. (West)
15.32
West Bengal
10.81
Kolkatta
15.97
Chennai
14.21
04/06/2010:- CMD to inaugurate BSNL 3G Rajdhani Express Train no 2434, Hazrat Nizamuddin to Chennai starting from Haz Nizamudding by 1515 hrs on 04/06/2010 and reaching Chennai by 2015 hrs on 05/06/2010 .......
01/06/10:- Total Telephone connections Operatorwise as on 30/04/2010 & Market share
Name of Operator
Telephone Connections (in Million)
%age Telephone Market Share
Wired Line
Wireless
Grand Total
Wiredline
Wireless
Grand Total
WLL
GSM
Total
WLL
GSM
Total
BSNL
27.7
6.03
64.6
70.6
98.3
75.1
3.6
14.9
11.8
15.4
Bharti Airtel
3.1
130.6
130.6
133.7
8.4
0.0
30.2
21.8
21.0
Reliance Telecom
1.2
88.8
16.3
105.2
106.3
3.2
53.0
3.8
17.5
16.7
Vodaphone Essar
0.0
0.0
103.8
103.8
103.8
0.0
0.0
24.0
17.3
16.3
Tata Indicom
1.2
67.9
0.0
67.9
69.1
3.2
40.5
0.0
11.3
10.8
Idea
0.0
0.0
65.3
65.3
65.3
0.0
0.0
15.1
10.9
10.2
Aircel
0.0
0.0
38.5
38.5
38.5
0.0
0.0
8.9
6.4
6.0
MTNL
3.5
0.3
4.8
5.1
8.6
9.5
0.2
1.1
0.9
1.4
BPL
0.0
0.0
2.9
2.9
2.9
0.0
0.0
0.7
0.5
0.5
HFCL/Infotel
0.2
0.3
0.0
0.3
0.5
0.5
0.2
0.0
0.1
0.1
Shyam
0.0
4.2
0.0
4.2
4.3
0.1
2.5
0.0
0.7
0.7
Uninor
0.0
0.0
5.0
5.0
5.0
0.0
0.0
1.2
0.8
0.8
Stel
0.0
0.0
1.1
1.1
1.1
0.0
0.0
0.3
0.2
0.2
Etisalat DB
0.0
0.0
0.0
0.0
0.0
0.0
0.0
0.0
0.0
0.0
Total
36.8
167.6
432.9
600.5
637.3
100.0
100.0
100.0
100.0
100.0
Wireless market share as on 30/04/2010
BSNL
Bharti Airtel
Reliance
Vodafone
TaTa
Idea
Aircel
BPL Mobile
HFCL Infotel Ltd.(M)
Shyam Telelinks Ltd.(M)
Uninor
Stel
Etisalat DB
Tamilnadu
4790639
8363301
5540300
7319356
3290121
790388
12339533
0
0
607612
698346
0
262
Karnataka
4082392
12887296
6072647
5277714
5537149
2672601
825535
0
0
285463
641203
0
270
Kerala
4217750
3147086
3470444
4287777
2202888
5486071
1292054
0
0
211748
319055
0
211
U.P.(East)
8393898
9370395
8909597
10376629
3031936
3813096
948195
0
0
0
1007208
0
315
All India 31/3/10
69450012
127619314
102422145
100858358
65942255
63824688
36861174
2844583
328146
3890955
4264036
1006827
0
In April 10
1177663
3000173
2733609
2897620
1941787
1463560
1608367
49928
-805
324644
757615
105564
4990
Total
70627675
130619487
105155754
103755978
67884042
65288248
38469541
2894511
327341
4215599
5021651
1112391
4990
30/05/210: Retirements as on 31/05/2010 in Telecom Finance
JAG Adhoc 5 nos (TN 1)
CAO Adhoc 2 nos
CAO Reg 5 nos
Sr AO 2 nos
Addl GM (Reg) 1 no
29/05/2010: Request Transfers in the cade of Sr AOs/AOs issued for 61 officers. 9 officers are posted to TN Circle. 2 AOs posted out of TN Circle.
Long Stay Transfers for 103 AOs/Sr AOs issued. 5 Sr AOs/AOs transferred out of TN
Transfers for 107 nos of STS Adhoc/Regular issued in the interest of inservice. 7 officers posted to TN
29/05/2010:- India adds 16.9 million telecom users in April 10: TRAI

India added 16.9 million mobile phone users in April 2010 taking the total number of telephone subscribers in the country to 638.05 million for the month, data from the Telecom Regulatory Authority of India (TRAI) showed.

With this, the overall tele-density in India reached 54.10 percent, TRAI said in a statement.

The number of telephone subscribers stood at 621.28 million in March, it added.

In the wireless segment, the subscriber base increased to 601.22 million in April from 584.32 million in previous month, registering a growth of 2.89 percent. The wireless tele-density stood at 50.98 percent.

However, in the wireline, the number of users declined from 36.96 million in March to 36.83 million in April. State-run telecom firms Bharat Sanchar Nigam Ltd and Mahanagar Telephone Nigam Ltd hold 84.64 percent of market share in the segment for which the tele-density stood at 3.12 percent.

The total broadband subscriber base in India grew by 2.8 percent from 8.75 million in March to 9 million in April, the statement said.
27/05/2010:- The Third District Conference of Erode SSA Branch was held in a GRAND MANNER, at Hotel Iswarya, Arya Hall, opp to Telephone Bhavan, Erode. Circle President Sri C Duraiarasan , Sri M.C Ravi Circle Organising Secretary took part. District Secretaries of BSNLEU, NFTE, TEPU and AIBSNLOA took part and felicitated the conference. District Secretaries of AIBSNLEA Coimbatore SSA, Salem SSA participated and honoured the conference. Photos
GM T Erode , Sri V.Sunder delivered a honourable speech and stressed about increasing the revenue of BSNL and steps taken to regularize unnecessary expenditures.
DGM CFA Sri K.Karunanidhi was felicitated by AIBSNLEA branch and presented momento, so also sri Balakrishnan retired AO ( Retired on 10/05/2010 thro, VRS)
Newly elected office bearers
.
G.Nagarathanam DE Dist President
K.K Dhandapani AO Dist Vice President
C.Periaswamy AO Dist Secretary
M.Baskaran JAO Asst Dist Secretary I
P.Malaiswamy SDE Asst Dist Secretary II
G.Balasubramanian AO Dist Finance Secretary
Dhinakaran JAO Asst Dist Finance Secretary
A.Shajahan JAO Dist Org Secretary
Executive Committee Members
P.Ponnuswamy SDE
S.Shivkumar SDE Civil
Flora Lilly Arokia Mary AO
S.P. Shanmugasundaram JTO
S. Balasubramanian PA
Auditor : Smt Leelavathi Sr AO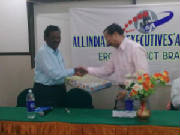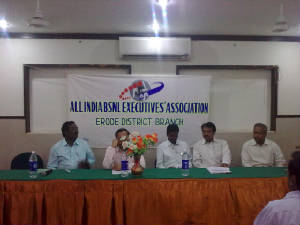 26/05/2010:- The Third District Conference of Erode SSA, AIBSNLEA Branch … on 27/05/2010 at Hotel Aishwarya, Arya Hall …… opp to Telephone Bhavan, Erode . ……..

District Secretaries of Joint Forum, Erode SSA, District Secretaries of AIBSNLEA from Dharmapuri, Salem , Coimbatore .. Assistanct Circle Secretaries, CEC Members, CWC Members, Circle Secretary and Circle President are going to participate …..

GM T Erode will be the guest of honour.

Our retired senior officers Sri Natarajan DGM F, Sri Angamuthu DGM F , Sri Palanivelu DE , Sri Balakrishnan AO , Sri Chandrasekaran CAO will participate.

Sri K.Karunanithi DGM CFA , retiring on 31/5/10 will be honoured

All the honourable members of Erode SSA are requested to participate and make the occasion more honourable.



26/05/10:- Govt revenues from BWA bid at Rs 9,533 cr

Press Trust of India, May 25, 2010 (New Delhi)

The bid for the pan-Indian Broadband Wireless Access spectrum rose to Rs 3,198 crore on the second day of the auction on Tuesday(25/5/10), up by a whopping 83 per cent over the base price.

According to the estimate of the Department of Telecom, at this price the government would realise a revenue of Rs 9,533 crore from sale of three slots BWA radio waves.

The government is auctioning two slots of 20 MHz of pan- Indian BWA spectrum.

BSNL and MTNL, which have already been given the BWA spectrum ahead of private players, will have to pay the equivalent of the winning bid in each service area.

The bid for nation-wide BWA licence had touched Rs 2,353 crore on 25/5/10, against the base price of Rs 1,750 crore.
On 25/5/10, five rounds of bidding were held which saw Delhi, Mumbai, Maharashtra, Gujarat, Andhra Pradesh, Karnataka, Tamil Nadu bid touching Rs 332.96 crore. The price for Kolkata and Punjab circles rose to Rs 136.28 crore, while that for Kerala touched Rs 106.98 crore.

The 3G auction, which concluded recently, has fetched Rs 67,719 crore to the government. Considering the estimated revenue from BWA spectrum auction so far, the government will fetch Rs 77,252 crore in total.

BWA spectrum allows companies to offer high-speed Internet access as well as Internet telephony and TV services. It can also be used for voice and high-speed data services.
24/05/2010 :- BSNL invited bids for acquiring 5.5 million lines to expand GSM operations from 3 foreign vendors, barring Chinese, who had participated in the earlier 93 million line tender which was cancelled. The decision to this effect was taken at a special board meeting of the PSU , senior officials said. The three vendors are Ericsson, Nokia-Siemens Network and Alcatel-Lucent, they added. The PSU has, however, not included Chinese equipment players like Huawei and ZTE. Huawei the winner in one of the regions in earlier 93 million line tender. Although BSNL is quite on its decision to exclude Chinese firms, sources said getting security clearances was the main reason for this. Asked why the tender has been reduced to a small quantity, they said it was for immediate requirement. BSNL had earlier cancelled 93 million line tender amidst controversies that the process lacked competition and also the PSU did not require that kind of capacity addition at one go.

Sources said PSU has also decided to invite bids for smaller quantities of equipment to meet demand in the short- term instead of building up huge capacities.
23/05/10:- Ministry orders number portability by September 2010

21 May 2010, 0831 hrs IST,Joji Thomas Philip,ET Bureau

The communications ministry has given an ultimatum to telecom companies to implement mobile number portability

by September , a step fraught with major implications on the financials of operators that won 3G airwaves on 20/05/10 auctions.
20/05/2010:- BSNL, MTNL have not sought exemption from 3G spectrum fee

Press Trust of India, May 20, 2010 (New Delhi)

State-run telecom firms BSNL and MTNL on Thursday said they have not sought exemption from payment for 3G spectrum auction fees.

"We have not sought any exemption from the Department of Telecom (DOT) to pay for 3G licence spectrum fee. We have sufficient reserves. We don't need to seek such an exemption. The payment is amortised over 20 years," BSNL chairman Kuldip Goyal told reporters here.

MTNL's CMD Kuldeep Singh said the payment for 3G spectrum auction licence fee is amortised over 20 years and "I think we can generate enough demand over the period to pay for the amount." MTNL has a cash balance of Rs 5,000 crore.

Both MTNL and BSNL face a payment of about Rs 16,500 crore for 3G spectrum auction licence fee. Of the total Rs 6,500 belongs to MTNL and the rest to BSNL.
19/05/2010:- WHO(World Health Organization) Interphone study reports on mobile phone use and brain cancer risk .... Pl view ....
18/5/10:- In the competitive environment, in spite of the growth of over 55% in the overall Telecom Customer Base, the revenue is stagnant at around 1,55,000 crores of rupees for all operators which is almost the same as that of the last year.

As regards BSNL, the growth is around 35% in the mobile compared to an industry growth of 50% though in absolute terms we have added 16.6 million lines in the financial year 2009-10 in comparison to 10.5 million lines during the financial year 2008-09 and it is not adequate in view of prevailing tariff scenario for which one has to add much more growth to really increase the revenue. The example of the growth in rural area which is around 2/3rd of the total growth whereas in the case of BSNL it is 1/3rd from the rural areas which has to be analyzed for not expanding the network, may be in the coverage terms or in the sales terms. ..... CMD .....
17/05/2010:- BSNL Crosses 100 Million Subscriber Mark

May 17th, 2010

India's National Telecom Backbone and leading total telecom Service Operator Bharat Sanchar Nigam Ltd (BSNL), today announced that It has crossed the landmark of 100 Million subscribers in India.

Commenting on the landmark achievement Mr. Kuldeep Goyal, company chairman and Managing Director said "BSNL is committed to taking India into the next league of telecom supremacy by providing technologically advanced services to its discerning customers at an affordable cost. In the emerging digital communications era, BSNL is optimizing its quality telecom network."

On the occasion of the World Telecommunication Day (17 May), He also announced that "BSNL will provide third generation (3G) telecom services at affordable rates and bridge the rural-urban digital divide.

BSNL is World's 7th largest Telecommunications Company providing comprehensive range of telecom services in India: Wireline, CDMA mobile, GSM Mobile, Internet, Broadband, Carrier service, MPLS-VPN, VSAT, VoIP services, IN Services etc. Presently it is one of the largest & leading public sector unit in India.

BSNL is the only service provider, making focused efforts and planned initiatives to bridge the Rural-Urban Digital Divide ICT sector. In fact there is no telecom operator in the country to beat its reach with its wide network giving services in every nook & corner of country and operates across India except Delhi & Mumbai. Whether it is inaccessible areas of Siachen glacier and North-eastern region of the country. BSNL serves its customers with its wide bouquet of telecom services.
13/05/2010:- In 2009-10

1. in DELs the revenue declines from Rs.8896 Cr. to 7640 Cr- (14%).

2. in Broadband there has been increase in the revenue from Rs. 1714 cr. to 2508 Cr (+46%).

3. in PCOs the revenue declines from Rs.1107 Cr. to 650 Cr.

In case of overall revenue there has been a positive growth in five circles namely

NE-II (+8.15%), Haryana (+4.9%), Orissa (+4.86%), A&N (+3.84%) and in Maharashtra it is +0.72%.

The worst circles where the overall revenue is negative are J&K (-26%), West Bengal (-14.3%) and Assam (-14%) in comparison to the previous year overall revenue. As regards the mobile revenue top five circles are Haryana, Himachal, Gujarat, Chattisgarh and Orissa. ...... CMD ......
07/05/2010:- I am extremely happy to note that Haryana Telecom Circle has shown the best performance amongst all circles in revenue growth as compared as last year and also for gaining maximum market share in respect of GSM connections .It is also heartening to note that Haryana Telecom Circle has come out with best performance in pushing up all the parameters set for creating exclusive sales and marketing growth as part of Project Vijay . The results are visible in Haryana capturing the maximum market share in GSM growth All these achievement is worth appreciating in view of hyper competition existing in various circles.

I am extremely happy to note that Orissa Telecom Circle has stood second amongst all circles in revenue growth as compared as last year. This achievement is worth appreciating in view of hyper competition existing in various circles ........... CMD BSNL .........
03/05/2010:- BSNL mulling hiring top talent from market

2 May 2010, 1351 hrs IST,PTI

NEW DELHI: Public sector telecom firm BSNL is contemplating recruiting top talent from the private sector to its management ranks to help prop up falling profits and stand up to competition and is willing to pay the chief executive as high Rs 10 crore a year
The proposal, which also includes paying deserving board members up to Rs five crore annually, was discussed at a meeting at the Department of Telecom (DoT) last week to implement recommendations of the Sam Pitroda committee on improving BSNL's performance.

There is, however, a hiccup. This is possible only if BSNL is taken out of the purview of Public Enterprises Selection Board (PESB) and Department of Public Enterprises (DPE) as the PSU doesn't have power to recruit people to higher level positions like Chief General Managers.


01/05/2010:- Uninor is charging the tarrif for mobile calls as per the traffic in the system.And tarrif for every call will depend on the place and time i.e the traffic on the system. With this way of the tariff definition the operator will be in a better position to utilize the infrastructure efficiently. In the same pattern, BSNL should think on this terms to better utilize the infrastructure for the landline and broadband also.The band of the tariff may be defined as the uninor has defined that the tarrif will wary between 20 paisa call to 50 paisa call per minute depending upon the traffic on the system. BSNL top management should give a good thought to this idea.
01/05/2010:- AIBSNLEA, 7th Foundation Day, Special GB meeting by 1330 hours at GM T office, Ground Floor, rest room was conducted. Sweets distributed to members for marking the celebration. Members are informed of the forth coming 3rd Dist Conference of Erode SSA Branch on May 27th.

Discussions made on transfers issued by SSA on 30/4/2010. It is surprised whether the transfers are post tenure transfers or station tenure transfers, or request transfers. Many cases of requests, long stay in posts and long stay in stations are yet to be considered . Consequent on the winding up of DE Trans Mtce, Gobi post, AIBSNLEA pleaded with the administration to revert, JTO (Trans) Nambiyur to NWOP, CFA, Nambiyur..... and because of that he was reverted to NWOP ,CM, Nambiyur.

01/05/2010:- Retirements as on 30/04/2010

Telecom Finance STS 2 nos

Sr AO 1 no

JAG 2 nos

Telecom Engineering

SDE/PS 72 nos TN 6 nos

STS 48 nos TN 7 nos
30/04/2010:- JAO 40% candidates, Phase I training to be started from 17/05/2010 for 69 candidates of TN Circle. In Erode SSA , Smt A.P Sundarambal, Smt K.Prema in RTTC TVM and Sri R.Upendiran to undergo Phase I in RTTC HYD.
28/04/2010:- The District Conferrence of AIBSNLEA ,Erode SSA, is scheduled to be conducted on 27/05/2010 at Hotel Iswarya, opp to Telephone Bhavan, Erode. Circle Secretary, Circle President, CWC members , Asst Circle Secretaries, Circle Org secretaries, CWC members and CEC members will participate. District Secretaries of AIBSNLEA from nearby SSAs, District Secretaries of Joint forum, Erode SSA will be invited. GM T Erode will be the guest of honour ....
28/04/2010:- As on 31st March 2010 ......
Total Telephone subscriber base reaches 621.28 Million

Wireless subscription reaches 584.32 Million
Wireline subscription remains at 36.96 Million

20.31 Million new additions in wireless
Overall Tele-density reaches 52.74
Broadband subscription is 8.75 million
The number of telephone subscribers in India increased to 621.28 Million at the end of March-2010 from 600.98 Million in February-2010, thereby registering a growth rate of 3.38%. With this, the overall Tele-density in India reaches 52.74%.
27/4/10:- New Proposed Staffing Norms Work Load Based for Fixed Access and Transmission I, O and M

BB One JAG for 75000 BB conns in SSA

One DE for 25000 BB cons in SSA

One JTO/SDE for every 5000 BB conns in SSA

Transmission: One Transmission Centre justified for every 1000 , 2Mb channels

For each Tx centre One DE and one SDE/JTO justified

Transmission Route: One SDE/JTO for every 600 KM OFC with associated Tx centre

One SDE/JTO for every 600 KM of MW

One SDE/JTO for every 300 leased circuits and one DE for every 1000 Ccts

Outdoor Plant :- One SAG for 3 Lakh wiredline-WLL

( Urban ) One JAG for 1.25 Lakh wiredline-WLL

One DE for 40Lakh Wiredline- WLL

One SDE/JTO for every 10 K Wiredline-WLL

Rural Area: One DE for 20Lakh Wiredline- WLL in rural area

( Indoor and O/D) One SDE/JTO for every 10 ANRAX or RSU – 10K wkg cons

One SDE/JTO for 7000WLL Rural subs

TAX Exchange: One DE for Level 1 Tax more 20 K

One SDE/JTO for 20K Level 1 Tax in the same building of main exchange

One SDE/ 2 JTO for 20K Level 1 Tax in the separate building

Additional 1 SDE/JTO for every 20K, Max 4 only

One DE per Level II having 50 K capacity and one DE for every Level 1 Tax

Main exchange: One DE for 50K to any capacity including RSU, MDF, BTY and PP

One SDE/JTO for 20K exch including MDF, BTY and PP

One dedicated SDE for 15K to 50K MDF and FRS
22/04/10:- Telecom Commission to discuss BSNL disinvestment

Sandeep Joshi

The Telecom Commission, the policy-making arm of the Department of Telecommunications, will soon take up the issue of disinvestment in the Bharat Sanchar Nigam Limited, Communications and Information Technology Minister A. Raja said here on Wednesday. (21.04.10)

"In next few days, the decision of the BSNL Board on the Sam Pitroda Committee report [regarding disinvestment] is going to be discussed in the Telecom Commission. The outcome will then be placed before a Group of Ministers, which is yet to be constituted," Mr. Raja told journalists.

On Tuesday, Mr. Raja assured BSNL unions that the government would refer the disinvestment matter to the GoM. While the BSNL management had asked the government to allow 10 per cent stake sale in the telecom firm, the Sam Pitroda Committee had recommended 30 per cent disinvestment, besides offering voluntary retirement scheme to 1 lakh employees, to improve the financial health of the organisation.

3G auction

Meanwhile, Mr. Raja said the government would earn up to Rs. 45,000 crore from the auction of 3G and broadband spectrum. "Going by the trends in the ongoing auction so far, the government would garner around Rs. 45,000 crore," he said.
20/04/2010: JAC called off strike as per the agreement reached with MOS (C).
20/04/2010:-DoT suggests putting BSNL divestment on backburner ...
This comes on the eve of a strike by BSNL unions against the Pitroda recommendations. .... Pl View .....
18/04/2010:- A Special General Body meeting of AIBSNLEA Erode SSA branch was conducted on 17/4/2010. Dist President presided. Dist Secretary explained agenda points, ongoing agitational programmes, and CWC Member Sri K.Sengodan spoke. Sri K.K. Dhandapani Dist Org Sec welcomed newly joined JAOs and spoke about organizational matters.
In the meeting attended by nearly 30 membes, Dist President requested newly joined JAOs to be more prompt and vigilant in the day to day affairs, and he also requested them in arresting unnecessary expenditures, as Erode SSA upto Feb 10 , Collections versus Drawing is 50 cr/ 60 cr with more than 10cr excess expenditure , which would have increased in Mar 10. All the surrounding SSAs viz DPI, CBE,SLM and Coonoor are positive in Collection versus Drawing upto FEb 10.
Dist Vice President mentioned about ramphant mis use of BSNL Vehicle by one DE. Coming to the office by BSNL vehicle, Mid day meals journey, and return journey by BSNL vehicle, reserving vehicle for the personal use only. Many Sr SDEs are carrying out even urgent and odd hour emergency works by their own two wheelers.
Long pending transfer case of AO Tr General and AO Civil was discussed. A resolution was adopted that transfer orders once issued should not be withheld when posting orders are made due to external pressures.Circle association should ensure that transfer orders to be issued to the officers within two months.
Pay fixation of some JAOs joined after 1.1.2007 in line with JTO 2005 batch, clarification should be received from BSNL HQ.
Members expressed surprise at the decision of SSA administration in winding up DE Trans Mtce post at Gobi, when the duration of OF cable interruptions in the locations of Sathy SDCA is exceeding 30 hours ( In April 10, two occassions) DE ISO was posted in Erode SSA, while in the quality objectives, there is no time frame prescribed for restoring OFC interruptions. Nearby SSAs there are 3 teams for attending OF interruptions under one AGM transmission, Erode SSA is having only one team for Trans Maintenance with two vehicles.
The Best performance 2009-10 among SSAs in TN Circle , Erode SSA could not get any achievement.
Eyebrows are raised when Circle office issued transfer orders on 17/04/2010 for SDEs with 22 years and 21 years of long stay in Nagercoil SSA in the name of excess posting in that SSA , and at the same time SDEs with 34 years and 33 years of continuous stay at Erode SSA are not at all touched in another principle of no excess posting in Erode SSA.
It is decided to conduct District Conferrence by May 23 or May 30, inviting Circle office bearers.
Dist treasurer G. Balasubramaniam AO Plg proposed vote of thanks.
17/04/2010 WORKING CONNECTIONS as on 31/03/2010
Circle
Basic
WLL
Mobile
Total
Wired BB
Wireless BB (3G+EVDO)
Karnatak
2,101,485
460,506
3,481,327
6,043,318
687129
32082
AP
2,107,406
288,634
4,227,505
6,623,545
513719
21800
Kerala
3,345,461
568,182
3,593,995
7,507,638
452704
52045
TN
1,923,014
422,970
4,296,895
6,642,879
432134
42421
BSNL
27,830,560
6,144,929
63,305,083
97,280,572
5498772
1215848
Net Mobile provided in 2009-10
AP
10,77,437
Karnataka
11,62,790
Kerala
10,78,666
TN
12,17,668
Bihar
12,02,861
UP E
20,46,797
BSNL
1,65,93,888
15/04/2010:- BSNL wants govt to foot bill for early retirement of 100,000

The state-owned company is expected to post a pre-tax loss of Rs2,612 crore for fiscal 2010.

BSNL's employee cost has almost doubled from Rs7,309 crore in 2006-07 to an estimated Rs13,967 crore in 2009-10, while the customer base has risen to 90 million (including 28 million fixed-line and 62 million mobile subscribers) from 65.7 million in 2006-07. ... Pl View ......

(Livemint.com Posted: Wed, Apr 14 2010. 9:36 PM IST )



14/04/2010: - BSNL begins to bleed, sees a loss of Rs 2,611 cr in FY 09-10

14 Apr 2010, 0057 hrs IST,Joji Thomas Philip,ET Bureau

"The government has run this company to the ground as the telco's board was never allowed to govern," said BK Syngal, senior principal at Dua Consulting, and former chairman of Videsh Sanchar Nigam, another state-run telecom company that was sold to the Tatas. "Rather, BSNL was run from Sanchar Bhavan," the building in which the telecom ministry bureaucracy is seated.

The loss is despite receiving Rs 2,600 crore as grants from the government to subsidise the landline business and Rs 3,080 crore as interest from bank deposits, according to documents
13/04/2010:- Clarification on Mandatory Training
Two weeks training prescribed under promotion policy is mandatory only on one occasion ie either on post based promotion or on financial upgradation in a particular grade, whichever happens to occur earlier. If an officer gets his post based promotion earlier to time bound promotion he will be sent for the training within two years of such promotion and subsequently on time bound promotion he need not be deputed for training or vice versa
13/04/2010: Revision of Min guarantee for all types of PCOs from 01/05/2010 ......
Particulars Local/STD/ISD PCOs
Rural Urban
Defined Amount for
Minimum Guarantee** Rs 90 Rs 270
Service Tax At applicable rates
(Existing rate is 10.3%)
** Minimum Guarantee is exclusive of Service Tax and commission /discount.
1. This revision will be applicable with effect from 01-05-2010.
2. The above revision may be incorporated in all existing billing packages including CDR billing system.
3. All other existing terms and conditions shall remain unchanged.
13/04/2010:-
Broadband Achievement in 2009-2010
Circle
Working as on
Achieved in
As on 31.3.2010
31.3.2009
2009-10
Cumulative
TN
2,50,556
1,81,578
4,32,134
BSNL
35,57,471
19,41,300
54,98,771
09/04/2010:- APAR forms for GMs , DGMs and DEs/ CAOs, SDE/AO revised. New forms to be writted from 2009-10. Green for GM level, Yellow for DGM/DE/CAO and white for SDE/AO level.

Numerical grading 1 to 10 to be issued. 1 for lowest and 10 for highest. APAR in new forms should be sent to HQ by 31st July2010/31st August 10, certificate regarding disclosure of APAR and all action taken in compliance has been inserted in the new format and the same is required to be filled up before sending a copy of APAR HQ .....Group B Format, Group A format
07/03/2010:- Government may compensate BSNL for 3G, wireless broadband outgo

BSNL received a 100% reimbursement of licence fees from 2001-02 to 2003-04 as compensation for providing telecom services in rural markets. For 2004-05, such reimbursement of licence fees from the government was restricted to a two-third of the levies it paid and was further restricted to one-third in 2005-06. Thereafter, licence fee reimbursements to BSNL were stopped. Between 2001 and 2005, BSNL, it is learnt, received licence fee refunds in excess of Rs 8,600 crore..... Pl view...
5/04/10:- 600 mn connections target by 2012 exceeded: IT Minister

4 Apr 2010, 2000 hrs IST,PTI

PUDUCHERRY: Union Communications and IT Minister A Raja today said the target of 600 million connections expected to be provided by 2012 under the

National Telecom Policy-1999 had not only been achieved but had been exceeded with 650 million provided the telecom facility.Every month not less than two crore connections were given,he said launching the BSNL`s 3G mobile service here.
Tele-density particularly in rural areas, which was now ten percent, would double in the next three years,he said.


`

BSNL is having wider concentration and coverage of people in remote villages` he said and appealed to the workers and employees to be prepared to face challenge posed by the private players.
Allaying fears of the employees and other stakeholders that BSNL would be privatised, he said 'nothing would be done to affect the workers and their welfare and no decision would be taken without consulting the workers.'
02/04/2010:- Due to the strong initiative of United Forum, 219 STS officers (Engineering) are promoted as DGM Adhoc. In Tamil Nadu Circle 27 STS officers are promoted and posted in TN circle except two, who are posted in Assam
01/04/2010: 9 nos of DGM adhoc promoted as DGM regular.
in TN Circle 1 no (R.Seeni)
25 nos of CAO adhoc promoted as CAO regular
in TN Circle 3 nos (Swamy S.Muthukumara,
R.Subramanian, R.Rangaraj)
01/04/2010:- Revenue figures as put in E3 to E4 Management Module.
Operator
Revenue ( in Rs. Crore)
BSNL Revenue break up Financial Year wise (in Rs Crore)
2006-07
2007-08
2008-09
Service
04-05
05-06
06-07
07-08
08-09
BSNL
39,715
38,046
35,811
Landline
21,853
20,421
16,605
12,668
9,173
Bharti
17,888
26,436
36,962
Mobile
3,792
6,433
9,264
10,579
9,828
Reliance Comm
14,468
18,638
22,941
WLL
347
481
568
618
636
Vodafone
10,565
15,477
22,224
Broadband
4
162
514
916
1,756
Tata
8,857
8,297
9,963
Circuits
421
530
512
757
960
Receipt from other
N.A
6,972
6,146
5,655
4,304
Operators
31/03/2010:- Retirements as on 31/03/2010

Telecom Finance STS 8 nos

Sr AO 2 nos

AO 1 no

Telecom Engineering

SDE/PS 74 nos TN 6 nos

STS 50 nos TN 7 nos

31/03/2010:- Mobile Number Portability delayed by 3 months

India's already delayed launch of Mobile Number Portability (MNP) has been deferred to June 30 this year.


29/03/2010: "We are a debt-free company with reserves of over Rs 35,000 crore." ... CMD BSNL .....
Kuldip Goel admitted, that the company might slip into the red this year on account of arrears on wages that have been raised. "We had a net profit of Rs 175 crore for the half-year ended December this year and were expecting profits of Rs 200 crore to Rs 300 crore at the end of the financial year. If we have to pay arrears on wages, which comes to around Rs 3,700 crore, we will surely make a loss this year." ....... Pl View ......
28/03/2010:BSNL Likely to net Rs 3641 Crore Loss in 2009-10 ........
Pl View
27/03/2010:- District Secretary, Asst Dist Secretary, and Org Secretary , met JAO successful candidates and congratulated them. All the seven comrades Smt A.P Sundarambal, Smt K.Prema, Sri R.Upendiran, Sri K.V.Raveendiran, Sri M.K.Jayabharathi, Sri S.Dinakaran, and Smt V.Sukanya expressed solidarity with AIBSNLEA , All the members submitted membership forms ....
26/03/2010 WIRELESS MARKET SHARE AS ON 28/02/2010
Circle
Rank
BSNL
Bharti
Reliance
Vodafone
Tata
Idea
Aircel
HFCL
Shyam
Uninor
Stel
Tota Pvt
Total
% BSNL
Tamilnadu
4
4548100
8172888
5376979
7003272
2840888
743347
11286487
0
430321
522189
0
36376371
40924471
11.11
BSNL
3
66757044
115719042
88097962
87268592
53581406
58170291
33030677
327792
3212038
3555480
717099
443680379
510437423
13.08
S. No.
Name of Operator
Telephone Connections (in Million)
%age Telephone Market Share
Wired Line
Wireless
Grand Total
Wiredline
Wireless
Grand Total
WLL
GSM
Total
WLL
GSM
Total
1
BSNL
27.90
5.88
60.88
66.76
94.66
75.48
3.76
14.93
11.83
15.75
2
Bharti Airtel
3.04
0
124.62
124.62
127.66
8.23
0.00
30.56
22.09
21.24
3
Reliance Telecom
1.17
83.10
16.31
99.41
100.59
3.17
53.18
4.00
17.62
16.74
4
Vodaphone Essar
0.00
0
97.23
97.23
97.23
0.00
0.00
23.84
17.24
16.18
5
Tata Indicom
1.14
63.16
0
63.16
64.29
3.08
40.41
0.00
11.20
10.70
6
Idea
0.00
0
62.14
62.14
62.14
0.00
0.00
15.24
11.02
10.34
7
Aircel
0.00
0
34.86
34.86
34.86
0.00
0.00
8.55
6.18
5.80
8
MTNL
3.49
0.31
4.70
5.01
8.50
9.44
0.20
1.15
0.89
1.41
9
BPL
0.00
0
2.78
2.78
2.78
0.00
0.00
0.68
0.49
0.46
10
HFCL Infotel/ Connect
0.17
0.33
0
0.33
0.50
0.46
0.21
0.00
0.06
0.08
11
Shyam Telelinks/ Rainbow
0.05
3.50
0
3.50
3.56
0.14
2.24
0.00
0.62
0.59
12
Uninor
0.00
0
3.56
3.56
3.56
0.00
0.00
0.87
0.63
0.59
13
Stel
0.00
0
0.72
0.72
0.72
0.00
0.00
0.18
0.13
0.12
0
Total
36.96
156.28
407.79
564.07
601.03
100.00
100.00
100.00
100.00
100.00
25/03/2010:- BSNL changes procurement model, opts for small tenders .... pl view
25/03/2010:- DoT opposes BSNL's WiMax plans
Arijit Banerjee, March 24, 2010 (New Delhi)
Even as the controversy over BSNL's 93 m mobile phone equipment tender is yet to die down, trouble is brewing for BSNL's WiMax. Department of Telecom (DoT) officials on BSNL board have opposed the tender, claiming it will lead to huge losses for BSNL. .... Pl View
24/03/2010:- Telecom equipment: Security check must

The government has directed telecom players, both public and private, to get security clearance for procuring telecom equipment/software from foreign vendors


The directive by the Department of Telecom (DoT) has also made it mandatory for equipment vendors to transfer technology to Indian manufacturers within three years of selling machines to any operator.

"The service provider shall mandatorily include a clause in their purchase order to foreign manufacturer(s) for transfer of technology of all critical components and software to Indian manufacturers within a period of three years from the date of purchase order," it said.

Earlier, only BSNL and MTNL had to get clearance, while private operators were doing their own due diligence while ordering equipment from the vendors for expanding network or rolling out services. Operators will now have to wait for 30 days to get clearance before purchasing equipment.
20/03/2010: Letter addressed to Erode SSA administration by District Secretary , AIBSNLEA, Erode SSA ......

Stay List of JTOs and SDEs for Intra SSA transfers is received by this Association. It is reminded by this Association that the Intra SSA transfers in Erode SSA may be effected after the implementation of Inter SSA transfers by the Circle Administration.

The Circle administration did not disturb even in 2008-09 also , the officers continuously working in Erode SSA for more than a Quarter Century.

This association felt the same trend will be repeated this year also. In that case SSA adiministration may follow the method of Circle Administration not to disturb anyone in Erode SSA

20/03/2010:- Letter addressed to Circle Adminsitration by our Circle Secretary with regard to Transfer Policy implementation for Intra Circle in TN ..........

We are really much constrained to point out the discrimination again done to the Executives working in other SSAs in the name of calling for option to Rotational Transfer in the cadre of SDEs.

While you convened the meeting with all Executives Associations on 11-03-2010 to finalize the modalities on implementing the Intra Circle Rotational Transfers, the units from where surplus staff is to be transferred were identified and the copy was also circulated to us.

But while calling for option on 19-03-2010, the Circle Office was left out as usual. This is not fair on the part of Administration. Moreover the total strength of shortage is cut to 36 from 48. A drastic reduction!

We initially express our stand categorically on such transfers. These transfers are not necessary while the financial position of BSNL is not good. If it is unavoidable, they have to be implemented fairly following uniform parameters to all SSAs.

We have to forget the individual face while rendering Justice. But this is blatantly violated in our Circle to save some individuals. The final list of long stay released is also not correct.

The representations of the officials are not taken into consideration before finalizing the list.

Hence we request you that the list is to be corrected without any favor to anybody and justice be rendered to prevent us from seeking legal remedy please.
19/03/2010:- With regard to employees transfer policy
Para 6(b), Section A of this policy stipulates that transfers involving change should be effected in such a way that transfer orders are issued preferably during March/April
Rotational/mass transfers are carried out in a transparent manner preferably during the period specified in transfer policy (March/April 2010) . As an economy measure, the mass transfers may be resorted to a reasonable extent
Request transfers and interest of service transfers may be considered as per eligibility/service requirement .........GM Estt BSNL CO, vide Lr No 250-7/2007-Pers-III dtd 18.03.10 ......
18/03/2010:- Telecom Ministry favours a discussion on Pitroda Panel recommendations
No Progress on BSNL stake sale ....... pl view
16/03/2010:- CGMT Bihar Circle Shri S.C.Misra promoted as MEMBER(Services), Dept. of Telecom
16/03/2010:- BSNL staff to strike work on April 20 to protest divestment
16/03/2010:- Reliance Comm rings in 100 million subscribers

On May 15, 2009, GSM operator and market leader Bharti Airtel had reached the 100 million subscriber milestone to become the 3rd largest single country mobile services operator and sixth largest in-country integrated telecom operator in the world. RCOM launched pan-India operations in 2003, while Airtel told ToI it went pan-India in 2005 when it added Assam and North East to its bouquet of 21 circles.

According to the latest Trai data for January-end, Bharti Airtel had 121.71 million subscribers, followed by RCOM at 96.59 million, Vodafone at 94.14 million, BSNL at 65.10 million, Tata at 60.31 million and Idea at 59.88 million subscribers. This indicates that RCOM added over 3.41 million in the 43-day period till March 15 to breach the 100 million subscriber mark.

RCOM offers CDMA and GSM mobile services. In a statement, Anil Ambani, chairman, ADAG said: "The landmark 100 million mobile customer base makes us the youngest telecom operator to achieve this milestone in such a short span of time. Reliance Communications pioneered the mobile revolution in India and since then we have been the frontrunner of telecom innovations in the country. As we take the leap to achieve the 200 million mark, we will lead it from the front with more customer-centric innovations and service approach."
14/03/2010:- Why sack 100,000 people when just one will do? .......... Pl Look Editorial .. DNA Money 14.03.10
13/03/2010:- BSNL Board has not approved VRS Plan ... CMD to ET ..
Is it possible that for the first time, BSNL will register losses this fiscal ?
This year, that is a possibility. This is because of this new liability of having to pay three-year salary arrears due to the revision. .... Pl Go through
12/03/2010:- DoT worried over Pitroda panel suggestions on BSNL

Mansi Taneja / New Delhi March 12, 2010, 1:13 IST

The Department of Telecommunications (DoT) has raised serious concern over suggestions made by the Sam Pitroda committee for sweeping changes in state-owned Bharat Sanchar Nigam Ltd (BSNL).

It is learnt that Communications and IT Minister A Raja is likely to write a letter to the Prime Minister's office (PMO) expressing his displeasure over the report.

"The report by Pitroda offers a long-term solution… it does not address the existing issues and the concerns that may arise while following the long-term plan," a top functionary in the ministry told Business Standard. If BSNL shifts to an outsourcing model for procuring equipment, as suggested by the report, it would take 8-10 months and, all this while, it would not be able to add capacity. This would further push the company down in the Indian mobile market.

The recommendations, however, were approved by the BSNL board on 10/03/2010. These have to be cleared by the Telecom Commission, and, considering the strong opposition, it is highly unlikely to go through.

The committee, formed by PMO to look at ways of reviving BSNL, also had Telecom Secretary P J Thomas and HDFC Chairman Deepak Parekh as members.

Asked why the ministry was raising objections when the telecom secretary himself was part of the committee, the official said he (telecom secretary) was not involved while preparing the report on BSNL. The functionary said the committee had not undertaken any groundwork to learn about the functioning of BSNL and the unions. It also suggested changes without even analysing the consequences of the suggestions.

When asked how the voluntary retirement scheme (VRS) would be financed, the DoT functionary added: "The finance ministry is not ready to provide support to a VRS scheme of BSNL. We are working out the numbers as to how much it will cost. If money does not come from the finance ministry as a special package, we cannot implement the scheme at all."

The functionary also made it clear that the proposals, though cleared by the BSNL board, would be difficult to implement without the support of the unions. "The unions were not consulted on VRS or the divestment. We don't see how they can be implemented without their support."

The unions have been opposing the company's proposed initial public offer since it was approved in 2007.
11/03/2010:- BSNL clears 30% divestment

Mansi Taneja / New Delhi March 11, 2010, 0:42 IST

Unions oppose move, even as the telco gets ready to offer voluntary retirement.

Subject to Union government approval, the board of state-owned telecom company Bharat Sanchar Nigam Ltd (BSNL) on 10/03/10 cleared a proposal for the divestment of 30 per cent government equity in it, as suggested by the committee set up under Sam Pitroda, the prime minister's telecom and infrastructure advisor.

The board also accepted the three-member Pitroda panel's proposal to reduce BSNL's 300,000 staffers by a third.

In addition, it accepted the Pitroda recommendation to have a contract-based appointment system for top management, separate positions for MD and CEO and a formation of an advisory board.

Apart from Pitroda, the panel comprised HDFC chairman Deepak Parekh and Union telecom secretary P J Thomas. BSNL employee unions have already made their strong opposition clear to the disinvestment and staff reduction proposals. They are planning demonstrations and more, across the country.

"The board has agreed to go for 30 per cent disinvestment in two-three stages. BSNL would soon appoint bankers for taking an estimate of the total valuation of the company," a company official told Business Standard.

As for reducing staff, the board decided to offer a Voluntary Retirement Scheme (VRS) to about 60,000 of its employees. "About 60,000 people are (anyway) retiring in the next four-five years, who can adopt the VRS (if offered now). The rest of the 40,000 employees can be accommodated (transferred) in various departments under the communications ministry," the official said.

The board decided to ask for a financial package from the government to cover the VRS cost.

The board decision on divestment has to be endorsed by the Union cabinet. As for the staff unions, they had earlier managed to ensure a 2007 Cabinet clearance for a 10 per cent divestment could not be taken forward. They are planning a countrywide agitation on March 15 against the Pitroda report contents.

Since the earlier decision on divestment, the valuations of telecom companies have gone down substantially, with growing rate wars and new companies (six later entrants) battling in the market. The BSNL official admitted the company might not attract the same kind of valuation this time; among other things, it has been losing market share in the highly competitive mobile market. Its current market share is 12 per cent. And, the profit fell to about Rs 500 crore in 2008-09 from over Rs 10,000 crore in the previous financial year.

Telecom analyst Mahesh Uppal says: "If BSNL divests to a strategic telecom partner, it is an opportunity, as its assets are vastly underutilised. However, if government takes the approach taken for the MTNL divestment policy, it can only harm BSNL. MTNL has some of the poorest performing telecom stock in the world. "

Added Romal Shetty, Head of Telecom, KPMG, said: "BSNL has the reach and the infrastructure. But, the company needs private sector ownership. If there is a roadmap to divest more than 30 per cent, at around 50 per cent or so in the future and management control with someone else, valuations would be better.

The previous board meeting on Friday had accepted another Pitroda proposal, to scrap the controversial 93-million-GSM line tender, worth Rs 35,000 crore and shift to an outsourcing model for procuring equipment. "The company will be able to meet the immediate capacity requirements. We have 20 million lines with us," the official had said.

Private telecom companies follow such a model for expansion. With this, BSNL would reduce its capital expenditure, besides reducing its problem of having shortage of young trained engineers in latest technologies, had said the Pitroda report.

The BSNL tender was referred to the committee headed by Pitroda after a number of controversies, from home ministry objections on Chinese equipment firms to legal battles by disqualified vendors. The committee was also asked to find ways to revive BSNL.
10/03/2010:- A deficit of autonomy..... pl view
10/03/2010:- BSNL May Launch PE Fund: Report

March 10 2010, 13:53:34 IST | TEAM VCC

State owned telecom operator Bharat Sanchar Nigam Limited (BSNL) is planning to launch either a private equity or a venture capital fund to invest in start-ups in technology and IT space, reports the Economic Times.

The move, if materialises, will witness the telco joining Bharti Airtel Ltd, which runs a similar venture capital fund called Bharti Airtel Innovation Fund. Bharti Fund has a corpus of Rs 200 crore, and invests in companies in technology, media and telecommunications space.

The suggestion of forming a fund came from a three-member committee, which was set up by the prime minister's office to review the performance of the PSU, the report added. BSNL currently has Rs 35,000 crore cash in reserve, and is looking for several options to invest in, apart from launching a fund.

However, the firm has to receive approval from the ministry of telecommunication as well the finance to go ahead with the plan. Besides equity investments, the proposed fund is likely to invest in new joint ventures of the PSU. BSNL is exploring opportunities in sectors such as government, defence, education, health, agriculture and energy, among others for possible joint ventures, the report added.

Reliance Venture Asset Management (previously Reliance Technology Ventures Ltd) is one such fund investing in technology start-ups, though it is not directly linked with its telecom business Reliance Communication, unlike Bharti fund. Reliance Venture Asset Management is the corporate venture capital arm of Reliance ADA Group.
09/03/2010:- BSNL artificially inflating mobile user base, says Govt nominee on board
---
Idle lines?

A BSNL board member says that 29% of the PSU's mobile network was unutilised

Cancelling the 93-million-line tender will have no impact on the PSU's roll out plans
---
Thomas K. Thomas

New Delhi, March 8

The Government's nominee on the board of Bharat Sanchar Nigam Ltd, Mr J. S. Deepak, has informed the Department of Telecom that 28.73 per cent of the PSU's mobile network capacity was lying unutilised as the company was maintaining non-existing mobile subscribers to artificially inflate its user base.

Mr Deepak, who is also Joint Secretary in the Telecom Department, has stated that BSNL required new capacity of only about 10 million lines and therefore the 93-million-line project would have been wasteful expenditure.

According to him, cancelling the 93-million-line tender will have no impact on the PSU's roll out. This stand is contrary to a view within BSNL that it required buying new network equipment on grounds that the company was facing capacity crunch.

"An analysis of utilisation of existing GSM capacity shows about 28.73 per cent of BSNL capacity nationally is unutilised on account of maintaining non-existent pre-paid users on register to artificially inflate its subscribers.

Earlier, BSNL retained these subscribers by providing a grace period of about 35 days for pre-paid customers who had not recharged their SIM cards. This has been increased to 180 days even though customers have not renewed their subscription," Mr Deepak said in a note to the DoT.

The Government nominee was told to explain his stand after he had raised objections to BSNL awarding the 93-million-line contract. BSNL has since cancelled the tender.

"My stand is based on prudence which requires that in sectors like telecom where equipment prices are continuously going down and technology is rapidly changing, procurement should be restricted to the requirements of only a few years. This intervention on my part has resulted in BSNL avoiding huge amount of unnecessary capital expenditure in procuring 93 million lines," Mr Deepak added.tkt@thehindu.co.in

The nominee said that BSNL's losses this year are likely to be Rs 5,000 crore and in addition will be required to make a payment of about Rs 10,000 crore for 3G and broadband spectrum, which will exhaust almost all of the cash reserves within the next two years.

"The decision to procure 93 million lines of 2G/3G equipment was taken by BSNL Board in April, 2008 assuming that BSNL should aspire for a market share of about 30 per cent. However, in the 20 months that BSNL management has been dithering over this tender, the market share of BSNL has come down to about 12 per cent in mobile services. It was pointed out by me to the board that BSNL's ultimate market share may stabilise at about 6 to 8 per cent and consequently its requirement of additional capacity would be far less," Mr Deepak said in his letter.
08/03/2010:- BSNL to offer 5% equity to public Another 5% for private investors

JAYATI GHOSE

New Delhi, March 7:

State-run Bharat Sanchar Nigam Ltd (BSNL) plans to raise money through a maiden float and private placement of shares. In a meeting held on Friday, the BSNL board decided to offload 5 per cent equity to the public and 5 per cent to private entities, said sources

. The board had cleared a plan to divest 10 per cent through an initial public offering (IPO) in 2008 to raise about Rs 10,000 crore.The company's union is against divestment as it may lead to job losses. The BSNL board had proposed to give preferential shares to its employees to convince the union of the merits of listing the telecom firm. The proposal was rejected.

BSNL

has been losing market share to private entities because of its inability to add to capacity and execute projects in time. It has also scrapped a tender to procure mobile equipment for expansion.

Sources said the state-run telecom firm had other plans in the pipeline, including the sharing of towers and optical fibre backbone with competitors and providing IT services such as security (firewalls) and managed network to other companies.

Earlier, the Sam Pitroda committee — set up by the Prime Minister's Office to bolster the deteriorating financial health of the company — had suggested the government should sell a 30 per cent stake in the company through an initial public offering and raise funds from the sale of infrastructure assets such as towers and real estate.

Prime Minister Manmohan Singh, worried about the steep decline in BSNL's profitability over the years, had appointed Pitroda as the head of the committee, which had banker Deepak Parekh and telecom secretary P.J. Thomas as members. The Pitroda panel had also said BSNL, having 40,000 towers in 20 circles, should follow private companies such as Bharti and Idea Cellular that raised their valuations by selling towers for huge sums.

Another private player Aircel, too, sold 17,500 towers for Rs 8,400 crore to GTL Infrastructure in January.

BSNL's towers are now worth over Rs 19,200 crore. "The value can be unlocked through strategic sale or an initial public offering," said the committee.
07/03/2010:- OWNERS ENVY Private Operators Pride.

TERRIBLE IMPACT created since the last 18 months in BSNL as reported in all leading newspapers. SWEET DELAY for YEARS-TOGETHER for which PITRODA Committee is necessitated to SCRAP TENDER after the postmortem stage that too after a deep slumber which is nothing but PRESCRIPTION WORSE THAN DISEASE whereas the hidden story is somewhat different which is known to every sensible person as reported in the press from time to time OWNERS ENVY Private Operators Pride. The prospective estimated loss due to non- materialising 93m GSM lines as of date costed heavily, worked out to more than Rs.15,000 crores of turnover business to BSNL.
07/03/10:- Retrenchment in BSNL would have wider implication: Raja

Press Trust of India / New Delhi March 04, 2010, 19:55 IST

Cautioning that any retrenchment in the telecom PSU BSNL, as recommended by a Prime Ministerial panel, would have "wider implication", Telecom Minister A Raja has said that the issue needed to be considered in detail.

"Wider implications on retrenchment of staff and immediate requirement of BSNL till the new system (of procurement) is adopted, have to be addressed at length in the BSNL Board," Raja is understood to have told Telecom Secretary P J Thomas.

The Sam Pitroda Committee, set up by Prime Minister Manmohan Singh to devise methods to revive BSNL, has recommended rationalisation of three lakh staff of BSNL to stem HR costs.

The panel, which has already submitted its report to the Prime Minister, has suggested that employees strength to be slashed by a third.

The panel has also suggested 30 per cent disinvestment in the PSU. The report among other things, also talks about the changes in procurement processes and procedures of the PSU.

Reacting on the recommendation for change in the procurement process, Raja said the decision to move to managed services model from the existing equipment procurement through tender process, should be reviewed.

"... It (decision to switch to manage services) should be placed before the Full Telecom Commission since it is a major policy change and decision with respect to the BSNL."
06/03/2010: Elected office bearers of AIBSNLEA in the 3rd Circle Conference at Coimbatore 26/02/10 and 27/02/10
President: Com. C.Duraiarasan, Sr.AO/STR/Chennai.
Vice President: 1.Com.R.Sampath, Sr.PS/CO/CHI.
2. Com.R.Madurai, DE/CDL.
Circle Secretary: Com.N.Veerapandian, JTO/CHI.
Assistant Circle
Secretary : 1. Com.R.Guruprasad, CAO/CO/CHI.
2. Com.P.Chandrasekaran SDE/CHI.
3. M.K.Ganesan, JTO/TR
Organizing Secretary:
1. Com.D.Thamil selvan,JTO/VLR,
2. Com.K.Usman Ali, AO/CBT.
3. Com.S.Karuppaiah, Sr.AO/MA
4. Com.R.T.Karthikeyan, JTO/TVL
5. Com.V.Vimalathithan, SDE/KRU.
6. Com.M.C.Ravi, JTO/DPI
Finance Secretary: Com.P.Mohan,Sr.AO/CO/CHI
Assistant Finance
Secretary: Com.A.Narayanan, Sr.AO/VGR.
CEC Members: 1.Com.K.Govinadaraj,SDE/SLM
2. Com.R.Guruprasad, AO/VLR
3. Com.S.S.M.Jamaludeen,DGM/SLM
4. Com.V.Mohandoss,AO/KKD
5. Com.J.Balasubramanian JAO/MA
6. Com.A.Mani,CAO/TR
7. Com.S.S.H.Mohamed Lebbai, Sr.AO/TT
8. Com.S.D.Thenmozhi, Sr.AO/CBT
CWC Members:1.S.Sivakumar,Sr.AO/KMB
2 .Com.K.Sengodan,DE/ERD
3. Com.V.K.Paramasivam,AO/KKD
4. Com.R.Rajendran,DE/PTK
Auditor: Com.H.Prasad,CAO/CO/CHI
26/02/2010:- Retirements as on 28/02/2010

Telecom Finance STS 6 nos

Sr AO 2 nos

AO 2 nos

Telecom Engineering

SDE/PS 69 nos TN 6 nos

STS 40 nos TN 4 nos
24/02/2010:- WIRELESS MARKET SHARE of BSNL AS ON January 31st 2010
Circle
% Market share
Circle
% Market share
Andhra Pradesh
10.12
North East - 1
19.83
Assam
13.77
Orissa
16.80
Bihar
13.33
Punjab
18.53
Gujarat
10.09
Rajasthan
12.50
Haryana
18.13
Tamilnadu
11.12
H.P.
26.64
U.P.(East)
19.02
J&K
19.35
U.P. (West)
11.52
Karnataka
10.37
West Bengal
10.14
Kerala
17.61
Kolkatta
11.67
M.P.
12.86
Chennai
10.81
Maharashtra
11.51
BSNL
13.22
24/02/2010:- WIRELESS MARKET SHARE AS ON 31/01/2010
Circle
BSNL
Bharti
Vodafone
Aircel
Idea
Ril
Tata
Uninor
BSNL Share
TN
44,32,849
80,33,771
68,30,799
1,10,92,259
6,71,266
53,07,664
27,20,550
3,91,708
11.12%
BSNL
6,51,09,439
11,28,88,834
8,43,38,455
3,13,98,261
5,60,77,010
8,54,89,100
5,09,47,392
25,38,406
13.22%
· 22/02/2010: - Prepaid service:JK telecom operators may face action

STAFF WRITER 14:31 HRS IST

New Delhi, Feb 21 (PTI) Less than a month after lifting of the ban on pre-paid mobile services in Jammu and Kashmir, some telecom operators are under lens as the Government has objected to the manner in which the re-verification of subscribers had been done.

The government may also initiate legal action against defaulting operators, official sources said.

The issue of re-verifications reached the Union Home Ministry, which has sought a detailed report from various agencies in the state about the allegations made, the sources said.

The telecom operators of the state - Airtel, Aircel, Reliance, Vodafone, Idea and Tata Indicom - have been asked to submit details of the re-verification camps organised in the state, especially in Kashmir valley from January 22 onwards when the ban was lifted, the sources said.
22/02/2010:- BSNL doesn't wish to re-tender stuck 93-mn-lines contract ... CMD Pl View
20/02/2010:- Branch meeting of AIBSNLEA conducted on 19.02.2010.
Delegates were elected for the Circle conference. Local issues and matters regarding BSNL viabilities were discussed.
1) The members surprised at the list of Long stay SDEs and JTOs communicated to Circle Office from SSA. For some SDEs/JTOs service in the previous cadres considered, for some it is not considered.. and further more many long standing in the SSA who completed more than quarter century service are not at all included, and wrong inclusion of some names .......
2) Timebound policy for PA cadre and subsequent dispute with regard to consideration of 2nd ACP as 1st TBP....
3) Long pending pay fixation case for the JAOs assumed after 1-1-2007, provisional pay scales as in Calcutta
4) AO officiating orders for 4 posts in Erode SSA
5) Restoration of seniority in TES Gr B for those who declined promotions in that particular DPC
6) Resolutions to Circle Conference
19/02/2010:-The telecom operators in Jammu and Kashmir have once again come under scanner with Government objecting to the arbitrary manner in which the re-verification of pre-paid subscribers had been done in the state. Centre allowed resumption of services on January 22 after a months-long ban.

The Ministry got into action as Union home minister P Chidambaram was surprised over the speed in which re-verification of nearly 1.6 lakh customers was done in only 24 days which included two gazetted holidays and a eight-day long strike in the Kashmir valley.
14/02/2010:- GSM Market share as on 31st - January 2010 as per COAI
Sl. No.
Name of Company
Total Sub Figures
% Market Share
1
Bharti Airtel
121714243
30.86%
2
Vodafone Essar
94143364
23.87%
3
IDEA
59887404
15.19%
4
BSNL
59454630
15.08%
5
Aircel
33035907
8.38%
6
Reliance Telecom
15757690
4.00%
8
MTNL
4610327
1.17%
9
Loop Mobile
2701583
0.69%
10
Uninor
2538406
0.64%
11
STel
506179
0.13%
All India
394349733
100.00%
GSM FIGURES IN TAMILNADU CIRCLE As per COAI
Operators
Apr'2009
May'2009
Jun'2009
July'2009
Aug'2009
Sep'2009
Oct'2009
Nov'2009
Dec'2009
Jan'2010
Vodafone
5398603
5550119
5702130
5868362
6034986
6183793
6383505
6537630
6704337
6830799
Aircel
8346805
8654732
8953682
9251872
9560445
9720725
9934431
10186094
10573205
11092259
BSNL
3220697
3271811
3373047
3494807
3594964
3712692
3762871
3795216
3883003
4020802
Bharti Airtel
6360685
6569274
6811054
7068223
7272018
7482551
7772415
7823883
7913576
8033771
IDEA
6066
64526
225566
385591
530681
556225
586349
600535
671266
Uninor
202032
391708
14/02/2010:- Sam Pitroda committee submits BSNL report to DoT: Sources

Sam Pitroda-headed high-level committee has submitted a report on state-run telecom operator BSNL to the Department of Telecom (DoT), CNBC-TV18 reports quoting sources.

The committee, which also consisted of other influential names such as banker Deepak Parekh, was set up by Prime Minister Manmohan Singh on January 6 and sources say the report may contain suggestions for changes in BSNL's functioning and calls for greater autonomy for the company's board.

Another report is expected on the 3G auctions and over the functioning of Mumbai and Delhi operator MTNL, it is learnt.
13/02/2010: CVC wants BSNL mega tender junked.... Pl View

13 Feb 2010, 0206 hrs IST, Joji Thomas Philip, ET Bureau
11/02/2010:- Regarding viability of BSNL ... CMD BSNL to AIBSNLEA ...... CMD mentioned that this financial year in real sense BSNL is earning profit in comparison to other Telecom Service Providers. The Telecom Growth Rate affected all Telecom Operators. The wage revision and implementation of 2nd PRC recommendations has increased BSNL's expenditure. The propaganda being made that BSNL is facing red is not true and condemning BSNL Board will de-motivate. BSNL Executives, Non-Executives and all officers should work as a team for its growth.
08/02/2010:-TRAI starts process for 4G; to give recommendations soon

8 Feb 2010, 1531 hrs , PTI

Even as the government debates as to when the auction of spectrum for the third generation telephony will take place, telecom regulator TRAI today started consultation for the next level of telecom services.

The fourth generation or 4G technology offers download at faster speed (100 Mbps) known as ultra-broadband and high definition video on demand among other such services.

"Yes. We are starting the process and would come out with a consultation paper to look into various issues relating to 4G telecom services," TRAI Chairman J S Sarma said.

He, however, said categorically that this is not suggested that skip 3G process, as the government has taken definitive steps and may auction the spectrum soon.

"3G has been delayed badly ... I don't want 4G or LTE (Long Term Evolution) to meet the same fate. Other countries are catching up with the 4G and that is why we are taking advance action," he said.

4G or LTE is a successor to 3G and 2G standards, with the aim to provide a wide range of data rates up to ultra-broadband (gigabit-speed) Internet access to mobile as well as stationary users.

TRAI would look into the various aspects, including spectrum band to be alotted for 4G service and quantum and modes of allotment to the operators.

Asked by when the consultation paper be issued, Sarma said "very shortly." The paper would throw various questions for the industry and other stake holders to deliberate culminating into recommendations by the TRAI.
05/02/2010:- Pitroda Committee to deliberate on BSNL tender issue
Prime Minister Manmohan Singh has asked the Department of Telecom (DoT) to discuss the BSNL tender with the Sam Pitroda Committee.

The 93-million GSM tender is in the eye of storm and had been put on hold after the Central Vigilance Commission (CVC) ordered a re-tender.

On January 29, Telecom Minister Andimuthu Raja had written to the Prime Minister asking his intervention on the issue, and said the tender was crucial for "BSNL's future".

The PM, it is learnt, has asked the DoT Secretary to place the CVC letter before the committee and has urged the committee to discuss the matter urgently.

Incidentally, the Sam Pitroda Committee also includes, apart from banker Deepak Parekh, the DoT secretary himself.
03/02/2010: The Third Circle Conference of AIBSNLEA,Tamilnadu Circle will be held from 26-02-2010 to 27-02-2010 at "Nalla Aayan Samooga Koodam", Near Irudaya theatre, Junction area, Coimbatore
30/01/2010:- Postings of SAG officers for TN Circle
V Raju GM T Trichy
R.Ganeshan GM T Vellore
R.Radha GM T Tuticorin
A.Shajahan GM T Salem
I.Thirunavukkarasu GM T Nagercoil
30/01/2010:- Retirements as on 31/01/2010
Telecom Finance STS 10 nos TN 1 no
Sr AO 2 nos
AO 3 nos
Telecom Engineering
SDE/PS 111 nos TN 7 nos
STS 63 nos TN 8 nos
28/01/2010 MARKET SHARE OF TELECOM PLAYERS AS ON 31/12/2009
S. No.
Name of Operator
Wired Line
WLL (F)
WLL(M)
GSM
Total Wireless
Grand Total
% Wiredline Market Share
% Wireless Market Share
% Total Market Share
1
BSNL
28,095,939
5,351,890
278,747
57,230,577
62,861,214
90,957,153
75.79
11.97
16.18
2
Bharti Airtel
2,988,546
118,864,031
118,864,031
121,852,577
8.06
22.63
21.67
3
Reliance Telecom
1,164,793
78,639,212
15,156,401
93,795,613
94,960,406
3.14
17.86
16.89
4
Vodaphone Essar
91,401,959
91,401,959
91,401,959
0.00
17.40
16.26
5
Tata Indicom
1,103,172
0
57,329,449
57,329,449
58,432,621
2.98
10.92
10.39
6
Idea
52,264,247
52,264,247
52,264,247
0.00
9.95
9.30
7
Aircel
31,023,997
31,023,997
31,023,997
0.00
5.91
5.52
8
MTNL
3,497,084
311,179
4,565,260
4,876,439
8,373,523
9.43
0.93
1.49
9
Spice Telecom
5,347,625
5,347,625
5,347,625
0.00
1.02
0.95
10
BPL
2,649,730
2,649,730
2,649,730
0.00
0.50
0.47
11
HFCL Infotel/ Connect
168,761
0
341,862
341,862
510,623
0.46
0.07
0.09
12
Shyam
51,687
0
3,042,741
3,042,741
3,094,428
0.14
0.58
0.55
13
Uninor
1,208,130
1,208,130
1,208,130
0.00
0.23
0.21
14
Stel
141,411
141,411
141,411
0.00
0.03
0.03
Total
37,069,982
5,663,069
139,632,011
379,853,368
525,148,448
562,218,430
100.00
100.00
100.00
28/01/2010 MOBILE MARKET SHARE OF TELECOM PLAYERS AS ON 31/12/2009
Circle
BSNL
Bharti Total
Vodafone
Aircel
Uninor
Reliance
TATA
BSNL %
Tamilnadu
38,83,003
79,13,576
67,04,337
1,05,73,205
2,02,032
50,72,373
26,46,075
13.00
27/01/10:- Telecom subscriber base up 3.5 per cent to touch 56.2 crores...

Indian subscriber base crossed another milestone in December 09 to top 56 crore connections even though there was a net decline in the user base for the traditional fixed line telephones, fresh data released on 27/01/10 showed.

According to the sector's watchdog Telecom Regulatory Authority of India (TRAI), as many as 1.91 crore new connections were added during the month to take the net subscriber base to 56.2 crore and the tele-density to an impressive 47.89 per cent.

Tele-density in cities has crossed 100 per cent amid a price war that has ravaged operator revenues and bottom lines with some even offering
23/01/10: BSNL expands its 3G mobile services in TamilNadu

Bharat Sanchar Nigam Ltd expands its 3G coverage in the state of Tamilnadu on 23/01/2010 by launching much awaited 3G mobile services in the business city Coimbatore, tourist hot spot Ooty, and Coonoor, which comes under Tamil Nadu Telecom circle with lowest Video and Voice tariff plans.

The BSNL's 3G mobile service includes

Video calling,

High Speed Internet connectivity up to 3.1 mbps,

Multimedia services such as sharing of digital photos and movies via wireless means including Live TV,Videos and Music downloads, Real-time multilayer gaming.

It will also allow the users to install fring or skype on the Mobile Phone and make Free voice plus video calls to other mobiles having Fring or Skype anywhere in the world.
23/01/2010:- Linkage of full pension with 33 years of qualifying service shall be dispensed with, with effect from 1.1.2006

It was clarified vide O.M. No. 38/37/08-P&PW(A) dated 11.12.2008 that pension of Government servant retiring on or after 1:1:2006 will also be calculated based on the emoluments or average emoluments received during the last 10 months, whichever is more beneficial to him but his pension would

continue to be proportionate to the pension on completion of 33 years of qualifying service. Para 5.4 of this Department's O.M. No. 38/37/08-P&PW(A) dated 2.9.2008 was modified to that extent. This matter has been reconsidered by the Government. In partial modiflcation of the instrctions/order issued in this respect, it has now been decided that linkage of full pension with 33 years of qualifying service shall be dispensed with, with effect from 1.1.2006 instead of 2.9.2008. The revised provisions for calculation of pension in para 5.2 and 5.3 of tile OM No.38/37/08- P&PW(A) dated 2.9.2008 shall come into force with effect from 1.1.2006 and shall be applicable to the Government servants retired/retiring after that date. Para 5.4 will further stand modified to that extent.
22/01/10:- Local officiating arrangement orders issued in the cadre of Accounts Officers for 35 AAOs/JAOs issued on 18/01/10 was kept in abeyance .... Administration is in the process of considering more JAOs to officiate in their own station consequent on DGM(F) officiating and AIBSNLEA's discussions had with GM(F) .
21/01/10:- Tata Teleservices Leads in New Subscriber Additions in December 2009

Tata Teleservices Limited , India's fastest-growing pan-India dual-technology telecom service provider , emerged as the Number One telecom operator in the country for the fifth consecutive month in December, in terms of new subscriber additions, adding more than 3.3 million subscribers in the month. The achievement is all the more noteworthy as the nearest competitor managed to add just over 2.8 million subscribers in the same period, a gap of nearly half a million subscribers.

Tata Teleservices Limited has added 33,36,476 new subscribers in December 2009 from its CDMA and GSM operations put together. In November 2009 too, TTSL had showed a healthy growth in new additions, with 33,29,215 new subscribers being added.
21/01/2010:- TN Circle AIBSNLEA thanked the GM(F) for issuing Local officiating in the grade of DGM(F).

AIBSNLEA has brought to the notice of GM(F) about the recent AO officiating orders wherein only 8 officers out of 35 have been accommodated in the same station and others could not be accommodated due to non-availability of vacancy. Consequent on issue of the DGM(F) officiating orders for 20 Officers the resultant CAO/AO vacancy has arised and additional 11 JAOs can be accommodated in the same station. It requested to do the needful. After discussion, GM(F) has consented and asked to keep inform CAO(F) for necessary action. CAO(F) has been briefed about the issue.
21/01/2010:- TELECOM OPERATORS SEE REVENUE DIP

The per second billing introduced by telecom companies has come as a boon to millions of mobile users in the country but it is proving to be a bane for cellular service providers as it is affecting their revenues, feel industry experts.

According to TRAI data, the number of mobile subscribers in India has risen to more than 500 million at the end of November 09 and experts are of the opinion that though the number of mobile users has increased astronomically, the revenues are not in accordance with the number.


Though the companies announced the reduction of tariffs, the interconnect charges are not reduced. The companies cannot have short-term goals under the present conditions.



According to an industry expert the rate is 20 paisa per minute. That means the operator will have to pay 20 paisa as call termination charge to other operator if the call is cross-network.

There are about 12-13 telecom operators in India now and the rate could be sustainable only for a few operators who have the capability.

The mobile tariff war in India intensified after Tata Teleservices launched its GSM services under the brand name Tata Docomo announcing a per second tariff followed by other major players like Airtel, Vodafone, BSNL and Reliance
19/01/10:- BSNL IPO may happen next fiscal: Disinvestment Secretary

18 Jan 2010, 1733 hrs IST, PTI

NEW DELHI: The government on Monday rapped state-owned BSNL for poor financial performance and made a case for disinvestment in the telecom PSU through an initial public offer.

"I hope BSNL IPO happens in the coming year (2010-11). I can't say exactly when, but I certainly hope that it does happen because BSNL does need to open up to public ownership primarily with a view to strengthen its own management and its accountability," Disinvestment Secretary Sunil Mitra told private news channel.

18/01/2010:- BSNL seeks Rs 8,600 cr bailout over 2 yrs

Priyadarshi Siddhanta Tags : BSNL, bailout Posted: Monday , Jan 18, 2010 at 0025 hrs New Delhi:

State-run telecom giant Bharat Sanchar Nigam Limited (BSNL) has knocked at the government's doors for a Rs 8,600 crore bailout spread over the next two years and an extension of moratorium on interest payment of government loans worth Rs 7,000 crore. Besides these, the monolith which still has a networth of Rs 88,634 crore, has asked the Prime Minister's Office to direct all central and state governments to mandatorily subscribe to its services.

In a recent meeting with officials in the Prime Minister's Office (PMO), senior BSNL executives highlighted the company's poor finances caused by dwindling revenues from the landline business, progressive removal of concessions and rising salary bills. Falling landline connections alone have impaired its finances by Rs 3,500 crore during 2007-08 and 2008-09. Currently, BSNL has a lion's share of 76.23 per cent or 28.45 million subscribers in the wireline business.

The PSU has sought either exemption or reimbursement of licence fee and spectrum charges besides making good its losses on the telegraph business. "Progressive removal of concessions provided to the PSU like reimbursement of licence and spectrum charges paid and withdrawal of Access Deficit Charge (ADC) to compensate for unviable wire line network has adversely impacted the company's financial performance during the past three years," the official said.

The BSNL brass also pointed out that providing fixed telephone lines in rural and un-remunerative markets of urban areas caused a deficit of nearly Rs 4,000 crore per annum. They also said that the decision to restrict procurement of equipment from Chinese suppliers last year could also impact their performance and sought flexibility in procurement process like their private counterparts to reduce time delays and improve upon the quality of service.

18/01/2010:- Local officiating arrangement order issued in the cadre of Accounts Officers for 35 AAOs/JAOs. (List available in TN Circle Intranet ) Those who are ordered to officiate in other stations, they will be first transferred in the substantive cadre and officiating will be given. If they are not joining within 7 days, they will be deemed to have been declined and barred officiating for one year. Association has suggested to get options from the eligible JAOs as done in the Engineering Wing - instead of issuing officiating order ... followed by declining .... followed by ordering officiating for next juniors.
18/01/10:- BSNL may take a $1-bn knock on equipment deal

Pl view
17/01/10:- BSNL floats tender for dedicated defence network

 

Press Trust of India / New Delhi January 17, 2010, 15:01 IST

State-run Bharat Sanchar Nigam (BSNL) has floated a tender for building exclusive optical fibre cable network for the armed forces in lieu of their vacating radio waves which would be auctioned to mobile services operators for offering 3G services.

The tender, which was in the offing for a long time now, will set in motion the process to vacate spectrum by defence.

Citing security reasons, the Defence Ministry have been reluctant to release the spectrum in their possession unless a dedicated optical fibre alternate network is laid.

The armed forces, which occupy a bulk of the 3G airwaves, will move their communication requirements to the new network, thus freeing up airwaves for commercial telephony.

The Department of Telecom (DoT) in May last year had signed an MoU with Defence Ministry to set up this dedicated network. Later, the Cabinet Committee on Infrastructure also cleared this Rs 10,000-crore project.

The tender is for roll-out of OFC network, to be owned and operated by the Defence Services under the Project Implementation Core Group (PICG) of Ministry of Defence, said a BSNL official. The telecom major was made the coordinator for the entire project by the empowered Group of Ministers.

The tender is for procurement, supply, trenching, laying, installation, testing and maintenance of optical fiber cable and accessories for construction of exclusive optical NLD Backbone and Optical Access routes on Turnkey basis for defence network, said the official.

A highly resilient exclusive OFC based nationwide optical backbone for 414 Defence sites and optical gigabit access networks at 219 Army sites will be rolled as part of this project, official said.

The implementation of this project will be undertaken jointly by BSNL and PICG, whereby all essential project monitoring, installation, testing and acceptance tasks will be carried out by joint teams.

After successful implementation of this project, all the network assets created for this project will be handed over by BSNL to the PICG for subsequent operations and maintenance.

The Empowered GoM had made BSNL Chairman Kuldeep Goyal the chief of this project.
15/01/2010: Voluntary retirement from service of the following STS (Adhoc) approved
R.Subramaniam DE TN Circle 18-1-2010
Seetharama Varamballi DGM (O) KTK Circle 23-1-2010
14/01/2010

GSM Figures as on 31/12/09 as per COAI

Sl. No.
Name of Company
Total Sub Figures
% Market Share
1
Bharti Airtel
11,88,64,031
31.29%
2
Vodafone Essar
9,14,01,959
24.06%
3
IDEA
5,76,11,872
15.17%
4
BSNL
5,72,23,482
15.06%
5
Aircel
3,10,23,997
8.17%
6
Reliance Teleco
1,51,56,401
3.99%
8
MTNL
45,65,260
1.20%
9
Loop Mobile
26,49,730
0.70%
10
Uninor
1208130
0.32%
11
Stel
141411
0.04%
All India
37,98,46,273
100.00%
13/01/2010 NET PROVISIONS IN DECEMBER 2009
CIRCLE
FIGURES
Basic
Mobile
WLL
BB
3G
EVDO
Tamilnadu
Gross
15,284
92876
7,195
Disconnection
26,921
5089
4,392
Net
-11,637
87787
2,803
15,211
0
2410
BSNL
Gross
1,50,594
21,51,486
1,59,664
Disconnection
2,68,733
1,23,583
77,836
Net
-1,18,139
20,27,903
81,828
1,74,678
2,964
43,715
13/01/2010 BSNL eyes 1 million 3G subscribers by fiscal-end

12 Jan 2010, 1752 hrs IST, PTI

NEW DELHI: State-run telecom operator BSNL on Tuesday said it expects to close the fiscal with 10 lakh 3G users from seven lakh at present

"We have received good response and have about seven lakh 3G users and by the end of this fiscal, we should have crossed a million (10 lakh)," Bharat Sanchar Nigam Ltd (BSNL) Principal General Manager (Value Added Services) SS Sirohi told reporters on the sidelines of the 3G India Mobile Operators Executive Summit in New Delhi.

"We are present in 300 cities and towns, which will be increased to 760 over the next 3-4 months," he added.

BSNL is also focusing on introducing a variety of Value Added Service (VAS) offerings to drive its 3G plans.
"Apart from cheap calling rates, we are also offering cheap video calling, video streaming and full track download. We will soon offer video conferencing and other interesting applications," Sirohi said.
12/01/2010: Jan 12 birth day of Swami Vivekananda, is celebrated as National Youth Day in India. India has 25 Crores youngsters with average age of 24 years. In developed countries average age of youngsters is more than 40. Even in China it is 34 years. 60 % of youngsters in India are less than 30 years and about 2 crores are in the age of 12 to 16 years.
11/01/2010:- The Free Insurance coverage for Personal Accidental-Death and/or Permanent Total Disability due to accident was allowed by BSNL to its Landline inclusive of WLL customers, PCO operators and Post-paid Cellular customers for a period of one year from 14-01-2009 to 13-01-2010 . BSNL has decided not to extend the insurance scheme beyond 13-01-2010.
11/01/2010:- TRAI to move in for 10 digit nmbering scheme for Land lines instead of Mobile numbers, on the other hand, some additional levels will be allocated for Mobile numbers.
The existing numbering plan was fixed in 2003 and DoT had expected it to be in place till 2030. This is because, based on the 2003-projections, India was expected to have 500 million mobile customers only by 2030. But the country has reached that mark in 2009 itself. India has been the world's fastest growing cellular market for the past three years, surpassing even China.
It is easier to shift 40 million Landines users than to shift 510 million Mobile users


· 10/01/2010 PM forms committee to arrest BSNL's falling revenues
---
STAFF WRITER 13:6 HRS IST

New Delhi, Jan 10 (PTI) Concerned over deteriorating financial health and competitiveness of state-run telecom firm BSNL, the government has constituted a high-level committee, headed by Sam Pitroda and Deepak Parekh as member, to look into the issues and give recommendations within a month.

This was decided at a meeting chaired by Prime Minister Manmohan Singh last week to review the performance of two telecom PSUs ? BSNL and MTNL.

"There was an agreement that the situation of BSNL required immediate action to address both the short as well as long term issues affecting its financial health and competitiveness," the Prime Minster?s Office (PMO) said here.

On the position of another PSU ? MTNL (that offers services only in two metros of Delhi and Mumbai) ? was comparatively better and the issues concerning it be considered in the normal course, separately, it added.

10/01/2010:- BSNL, CIL set to go off divestment list for now

9 Jan 2010, 0527 hrs IST, Anto Antony, ET Bureau

NEW DELHI: BSNL and Coal India are not part of the list of dozen odd state-run firms that are slated to hit the market next fiscal, with the government worried that the current valuations of the telecom major and the mining firm are nowhere near their potential

The disinvestment department estimates that BSNL will be able to command a valuation of only around Rs 58,000 crore, which is just about half of what it was valued in 2008, said a finance ministry official. over

The government would now want the firm to tap capital markets only after a major restructuring aimed at unlocking potential value, said another official at the finance ministry.

BSNL, the telecom firm that runs fixed and mobile telephony services across India except the metros of Mumbai and Delhi, is sitting on cash reserves of more than Rs 40,000 crore. However, the firm has been making huge operating losses in the past two years, and has evaded the red so far only because of the interest it earns from its reserves. The firm ran out of capacity to expand cellular services nearly 18 months ago, and no new major contracts for mobile networks and equipment have been awarded in the past 24 months.

Meanwhile, the prime minister's IT advisor, Sam Pitroda, told reporters in Mumbai that "there is no move to merge BSNL and MTNL". However, the government is considering selling a part of its stakes in BSNL and will move in quickly in that direction, he added.


09/01/2010 BSNL-MTNL merger back on the menu Business Line

The merger talks between Bharat Sanchar Nigam Ltd and Mahanagar Telephone Nigam Ltd could be back on the menu. The two PSUs discussed the issue at a meeting with the Prime Minister on 06/01/2010 as part of a plan to revive the company's profitability.

The two telecom companies have been exploring possibility of a merger for the past two years, but issues related to management, employee compensation and holding structure had put the deal on a backburner.

Pressure to perform

But now with both BSNL and MTNL losing their market share to private players, there is pressure on them to perform. While BSNL does not have access to most lucrative markets of Delhi and Mumbai, MTNL does not have presence in other parts of the country. Synergising their operations could put them in a better position to take on the intense competition in the mobile segment.

In a bid to get BSNL to work more efficiently, the Government is also looking to get the company listed on the stock exchanges. Though the Government had given its nod for the Initial Public Offering (IPO) over a year back, the employees union are against the proposal. The BSNL management has been asked to negotiate with the employees union and move ahead on the plan.

Issues related to BSNL's 93 million line mobile equipment tender was also discussed.

The tender, floated in 2007, has not yet been awarded due to controversy over the way the company selected the vendor. BSNL may be asked to exclude 3G equipment from the tender altogether and stick to buying only 2G gear. Meanwhile the Central Vigilance Commission is also investigating allegations of irregularities in selecting the vendors.

In addition, BSNL has also sought a waiver of its licence fee which could lead to savings of over Rs 4,000 crore. However the decision will have to be taken in consultation with the Finance Minister. But private players are likely to object to this waiver and also claim similar sops.

The profits of the two PSUs have been declining over the past two years due to intense competition from the private operators. BSNL, which at one time was the number two mobile player in the country, has now slipped to number four. The company's profits have also fallen drastically and the company could go into the red at the end of this fiscal.
08/01/2010:- BSNL unions may oppose IPO Meeting of all unions convened on Jan 11

Mansi Taneja / New Delhi January 08, 2010, 0:57 IST

State-run telecom major Bharat Sanchar Nigam Ltd (BSNL) says it expects to increase its visibility in the domestic and international markets, besides improving company performance, as a fallout of the proposed initial public offering (IPO) of equity.

However, its employee unions are still opposed to the idea. A decision to offer 10 per cent of the equity was reportedly taken by the Government yesterday, though an official announcement has yet to be made.

"After an IPO, BSNL will have market-based accountability performance, which will benefit the company as well as its employees. It will also give the company a much-needed visibility in the global market and enable us in making strategic alliances easily," Chairman and Managing Director Kuldeep Goyal told Business Standard.

In 2008, a BSNL official had valued the company at Rs 1,00,000 crore and a 10 per cent divestment could fetch around 10,000 crore. Asked to comment on the valuations of BSNL, Goyal refused to comment. He said the valuation of telecom companies had gone down considerably down in the recent times.

Expressing their strong disapproval to the reported IPO, BSNL union head V A N Namboodiri said: "We are opposed to the listing of BSNL. It will be completely against the interest of the people. Even MTNL could not benefit from its listing."

We have convened a meeting of all union forums on January 11 and we will decide our future course of action then, he said. Responded Goyal: "We will have a dialogue with them once the government takes a final decision. We will find ways to convince the employees and make them understand the benefits."

BSNL has a total employee strength of 350,000 all across India, of which 150,000 are unionised.
08/01/2010: Finalization of 93 million GSM Tender: CMD informed to AIBSNLEA, that the issue was discussed and concern was expressed to expedite the matter. CMD clarified that in phase-VI tender for procurement 93 million GSM lines 4 parts are there i.e. part-I : 2G, part-II : 3G, part-III : Infra and part-IV : IT. The bidders have quoted different rates for the different parts i.e. for part-I : 2G, rates are 7-8% less than phase-V tender, for part-II : 3G, rates are 20% higher than the phase-V tender which cannot be accepted, for part-III : Infra, the rates are 15-16% higher than the phase-V tender which may also not be considered, for phase-IV : IT, can be dealt later on also. He explained that due to lower rates of 2G equipment in phase-VI tender, the 2G equipment against phase-V tender rates now cannot be considered. Regarding part-III : Infra, due to higher rates cannot be considered and may be retendered. Regarding part-IV : IT, he mentioned that this issue also can be sorted out later on. Hence BSNL should purchase 2G equipment of phase-VI tender which is lowest. Regarding 3G, Infra and IT retendering can take place immediately.
07/01/2010:- BSNL may get licence-fee relief to regain lost ground

7 Jan 2010, ET Bureau

NEW DELHI: State-owned telecom major BSNL may be exempted from sharing 6-10% of its annual revenues as licence fee levy with the government leading to annual savings of over Rs 4,000 crore, after the PSU presented its case before the prime minister's office (PMO) on Wednesday (06/01/10). The PMO is looking into this proposal in a bid to help the telco revive its fortunes, make up lost ground to private operators and remain competitive in the world's fastest-growing telecom market.

The PMO also conceded a suggestion for immediate sale of 10% government equity in the telecom giant. The meeting reviewed challenges before the telecom PSUs BSNL and MTNL, including issues of expansion. The PMO has called for a meeting with the communications ministry to discuss the plight of BSNL, especially with regard to its declining revenues and market share.

"We discussed with the PMO about the licence fee waiver for BSNL. As the first step, we sought the waiver for fixedline services in rural India. We had already approved this policy change, but it could not be implemented (from January 1, 2009 due to objections from the finance ministry). Rural licence fee waiver alone will enable BSNL to save about Rs 1,800 crore annually," communications minister A Raja told ET after the late evening meet with the PMO. BSNL's CMD Kuldeep Goyal and officials from the department of telecom (DoT) were also present at the meeting.

In its presentation to the PMO, Mr Raja and his ministry pointed out that as per the National Telecom Policy of 1999 (NTP '99), state-owned telcos are exempted from paying licence fee. It was also highlighted that despite this Clause in NTP 99, BSNL had been paying between 6% and 10% of its annual revenues (depending on the area of operation) to the Centre as licence fee. Besides, it was also pointed out that BSNL requires about Rs 8,774 crore in capital expenditure to support its unviable wireline operations, especially in rural India.
06/01/2010: Now, PMO explores best available mobile tariff plan for staffers

Tue, Jan 5 2010 The Financial Express

The ongoing tariff war amongst the mobile operators, which has led to further decline in the already rock-bottom tariffs, has caught the attention of even the Government departments.

The first to take note of the development is the Prime Minister's Office (PMO), which wants to make the best of the rate wars.

It has asked the operators for fresh quotations by enumerating its requirements in terms of mobile connections and bouquet of offerings.